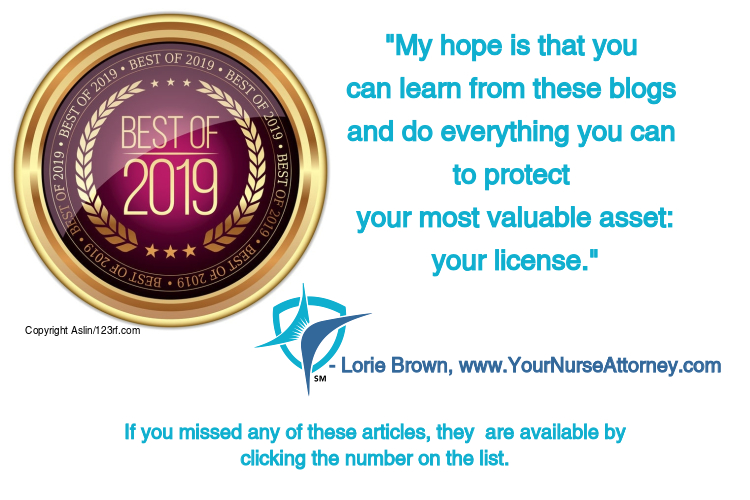 This is one of my favorite things with each New Year.  I look at my top 10 blogs to see which ones you really enjoyed.  In 2018, the favorite ones were based on license protection so in 2019, I chose to do more articles on that same subject.
Just like with the New Year's Eve countdown, let's go down the list starting with number 10 and head to number 1.  By the way, you can read the original blog by clicking on the bolded number for each one.
NUMBER 10:  PYXIS AND YOUR NURSING LICENSE – Probably among the most important of my videos because day after day I see where nurses are not properly following policy with medication management which is of concern to administration due to our opiate crisis.
NUMBER 9:  THE PERILS OF TRAVEL NURSING – This blog discussed the top 8 ways travel nurses can get into trouble and advises how they can protect themselves.
NUMBER 8:  WILL NURSES BECOME OBSOLETE – Is new and advancing technology creating a more automated world that is taking the place of nurses?
NUMBER 7:  MED ERRORS AND CRIMINAL CHARGES – Tennessee nurse RaDonda Vaught accidentally gave a patient vecuronium instead of Versed resulting in the patient's death.  Vecuronium is used to intubate patients by repressing respiration.  While in a PET scan, the patient arrested and died. The issue was not identified until an audit by the Center for Medicaid and Medicare Services (CMS) was done over a year after the incident.  After the investigation, nurse Vaught was charged criminally in this matter.  While she did commit malpractice, it is my opinion that it should not have risen to the level of a crime albeit for making a horrible mistake.
NUMBER 6:  REFUSAL TO DRAW BLOOD – Jonathan Moore was involved in an auto crash killing a former city council woman and her daughter.  When Moore was hospitalized, police wanted the nurse to draw blood without an order and without patient consent.  The nurse told the officer that a warrant would be needed to make the draw.  Crystal clear policies should be in place so nurses know when they can do certain activities.
NUMBER 5:  FATAL MEDICATION ERROR UPDATE – This was another article dealing with of nurse RaDonda Vaught who accidentally administered vecuronium to a patient [See NUMBER 7].  Criminal charges were filed against nurse Vaught and the Tennessee Board had initially excused her actions but then decided to take action against her license.
NUMBER 4:  NURSES IN TROUBLE WHEN PHYSICIAN OVERPRESCRIBES – A physician was actually practicing "end of life" measures by prescribing 20 times the normal dosages of fentanyl.  Nurses who carried out those orders were all fired and reported to the Board.  There was one wrongful death lawsuit that settled for $4,500,000.
NUMBER 3:  NURSES WITH ADDERALL – This item discusses a Louisiana Board's concerns about nurses who take the controlled substance Adderall.  In fact, it shows a statement by the Board about how Adderall is the most widely abused prescription drug in America and how Boards can take action if a nurse takes any controlled substance.
NUMBER 2:  UNUSUAL NURSING BOARD CASE – A nurse received an unfavorable decision by the Delaware Division of Professional Regulations to the Supreme Court which overturned the Delaware agency's ruling.  Two nurses were on duty and required to count medications just as if they were controlled substances.  During the count, the supply of hepatitis C medication, costing $1,000.00 per pill, was accidentally spilled to the floor.  The nurse put the 12 pills in the sharps container, but the pharmacy ordered them to be retrieved for later distribution to this patient/prisoner.  The nurse's license was placed on probation for 90 days and required her to take continuing education.  But she disagreed with the decision and took the matter to the Delaware Supreme Court … and WON!  It is unusual for nurses to appeal a case, let alone be successful.
NUMBER 1:  PATIENT KILLS NURSE – A nurse accosted by a patient who, before others could restrain him, violently slammed the nurse's head onto a desk.  Lynne Truxillo subsequently succumbed to blood clots in her leg leading to a pulmonary emboli.  Though the patient was charged with manslaughter, the obvious truth was that the charge could never bring back nurse Truxillo.
MY PERSONAL FAVORITE:  My personal favorite blog was an interview with nurse Yolene Lofton who lost her license simply for recording the wrong date on some documents.  It was sad that she lost her license over that error.  But it does show just how important your license is and how even a minor error could result in loss of your license and livelihood.
My hope is that you can learn from these blogs and do everything you can to protect your most valuable asset: your license.
What was your favorite blog in 2019?  Was it any of the above or perhaps a different one?  Let me know in the comments below.