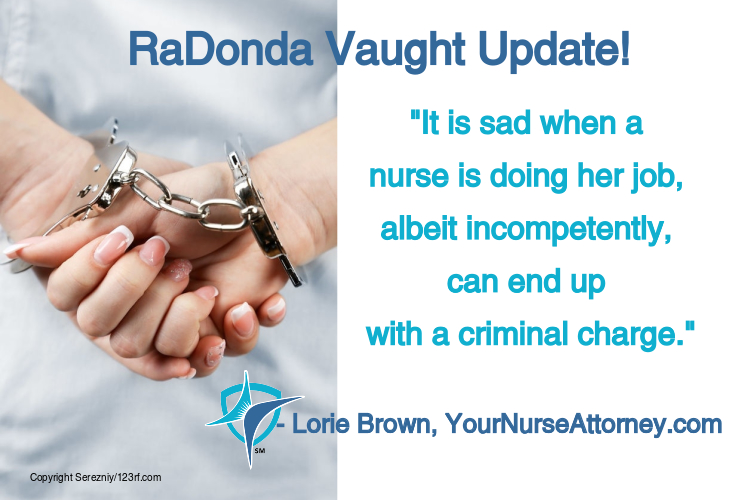 The nurse from Tennessee who made a horrific medication error, RaDonda Vaught, was originally told there would be no charges against her nursing license.  Regardless, the Tennessee Board of Nursing since has proceeded to file charges.
I reported RaDonda's story to you here wherein she accidently gave a patient vecuronium instead Versed which resulted in death.  Criminal charges against her are pending.  And on September 27, 2019, the Board filed charges against RaDonda Vaught's nursing license.  The Board matter will likely be continued because when a nurse has a criminal charge pending, most attorneys advise the nurse to take the Fifth Amendment to protect her Constitutional right against self-incrimination.
I find the excessive delay in the Board filing actions against her license to be very concerning.  The Board can file charges when a violation of the Nurse Practice Act has allegedly been committed.  Clearly, RaDonda Vaught did violate the Nurse Practice Act by her fatal medication error.
As I stated previously, I don't think a nurse should have criminal charges filed against her license for negligence, an unintentional act.  Clearly, RaDonda breached the standard of care resulting in death.
However, this matter is properly before the Board of Nursing and if the patient's family chose to file a medical malpractice action.  It is sad when a nurse is doing her job, albeit incompetently, can end up with a criminal charge.
If you would like to review the charges against RaDonda's license, click here.
What are your thoughts about the Tennessee Board of Nursing filing charges against RaDonda Vaught's license?  Should the Board be able to file charges after telling her that no charges would be filed?  I would love to hear your comments below.