You're a healthcare provider and you just got a job offer. If the salary looks good your first thought may be, "Where do I sign?" Your employment contract is not a document to skim over lightly! You need to know everything about it before you sign it.
I often explain to nurses, physicians and other healthcare providers that an employment contract is a legal contract similar to a marriage contract. How "married" to this job do you want to be? What are your options if things don't go smoothly? What do you do if your employment contract isn't working for you anymore?
Reme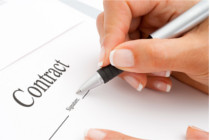 mber that an employment contract is drafted to protect the interests and the rights of your employer. Who's looking after your best interests? You need to! Which is why getting the advice of an attorney before you sign on the dotted line ensures that your interests are protected. Remember that before you sign the terms of the contract can still be negotiated, but once you signed you've given your word to comply with all the requirements. So now is not the time to be timid or embarrassed – you have the right to negotiate for your best interests!
At Brown Law, not only do you have an experienced attorney on your side, you have an advocate that is familiar with how the healthcare industry works. We'll protect your interests by looking at items such as:
Your Job Description: What services will you be providing? Are you adequately trained to perform those services? Will you have the support, training and equipment needed to perform those services? How frequently are you to see patients? Is it every fifteen minutes, every twenty minutes, every half hour; is that reasonable?
Your Salary and Benefits: What's your base pay and are bonuses guaranteed or discretionary? Are you an employee or a contractor? If you're an independent contractor, do you have to pay for your own equipment, supplies and malpractice insurance? What benefits are included? Will your employer cover travel expenses and continuing education?
Your Contract Term and Cause for Termination: Does your contract include a beginning date and an end date for your employment? Do you understand all terms of termination? Does the contract require just-cause termination, or can they fire you at will?
Your Non-compete Clause: Is the non-compete clause reasonable as far as time and distance? Would you be able to continue working in your profession without having to relocate?
Your Collaborative Practice Agreement: Who will be supervising you? How often will they review your records? Do they have standard algorithms to follow? Does your collaborating physician have prescribing preferences he/she wants you to follow?

This is not an exhaustive list, as there are state and local variations in employment law. However, it does help you to see the long-term ramifications of signing an employment contract and the need to negotiate a contract that will work for you.
Do you want our help reviewing and negotiating your employment contract? Or perhaps you're experiencing problems with your current contract? Just go to the Tell Us Your Story page and we'll respond to any questions you may have about working with our legal team regarding contract matters.