Are you a nurse or healthcare provider
concerned about your license?
You have come to the right place. I am a registered nurse and an attorney and I have represented over 300 healthcare providers, including nurses, physicians, dentists and pharmacists, before the various licensing boards.
Watch Lorie Brown in the news:
Check out Lorie A. Brown's Book, Law and Order for Nurses to learn how to protect your most valuable asset, your nursing license.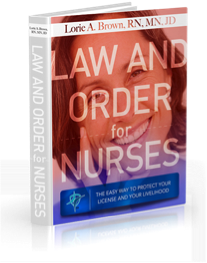 LawAndOrderForNurses.com