Are you a nurse or healthcare provider
concerned about your license?
You have come to the right place. I am a registered nurse and an attorney and I have represented over 300 healthcare providers, including nurses, physicians, dentists and pharmacists, before the various licensing boards.
Please watch this short video to learn
more about Brown Law.
Check out Lorie A. Brown's Book, Law and Order for Nurses to learn how to protect your most valuable asset, your nursing license.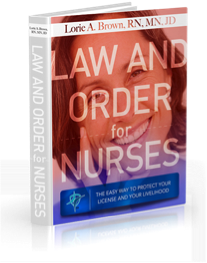 LawAndOrderForNurses.com