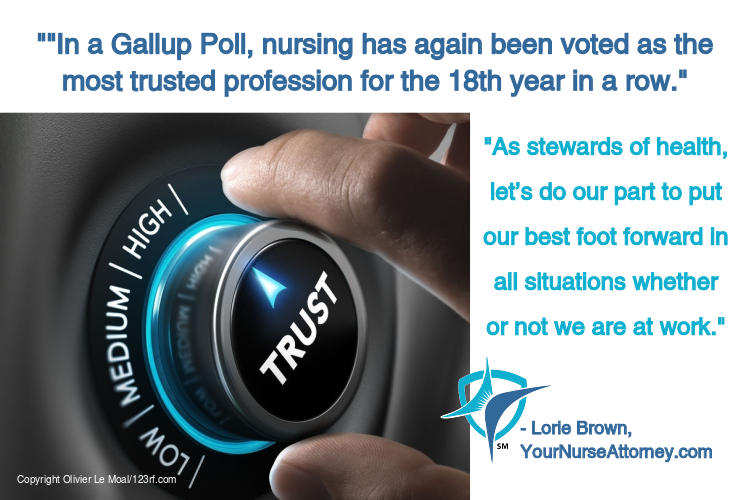 In a Gallup Poll, nursing has again been voted as the most trusted profession for the 18th year in a row.
One of the reasons it has been so long acclaimed is because of nursing ethics.  However, anything that nurses do that may not put our profession in the most favorable light, can be detrimental.
In an MTV reality TV show "Scrubbing In", they portrayed nurses going to bars in their scrubs.  This negatively portrayed the nursing profession.  We are held to high standards, just like a physician.  Because we are a nurse 24/7, If we go out and drink, we should not wear our hospital attire, nor should we get behind the wheel of a car.
Be careful of any behavior which could be negatively interpreted by the public.  As stewards of health, let's do our part to put our best foot forward in all situations whether or not we are at work.
Having a criminal matter can reflect negatively on the profession.  Because we are nurses 24/7, having a positive urine test even with a valid prescription, the Board cannot tell when you took that medication, even if you did take it after work.
Just remember, as a nurse, we are under the public spotlight. Ask yourself if you would have judgement toward a nurse engaging in certain behaviors.  If the answer is "Yes," then don't do it!  For example, if you take controlled substances off work, and the same medication you took comes up missing or a patient says they never received it, it will be difficult to defend yourself.
As nurses, we want to help.  But sometimes, helping can mean crossing the line.  One nurse went to the ATM for a patient across the street and the patient now claims she never received the money.
I am proud to be a member of the most trusted profession.  Hopefully it offsets the reputation of some attorneys!  Please join me in continuing to make nursing the most trusted profession and being professional even when you're not at work.