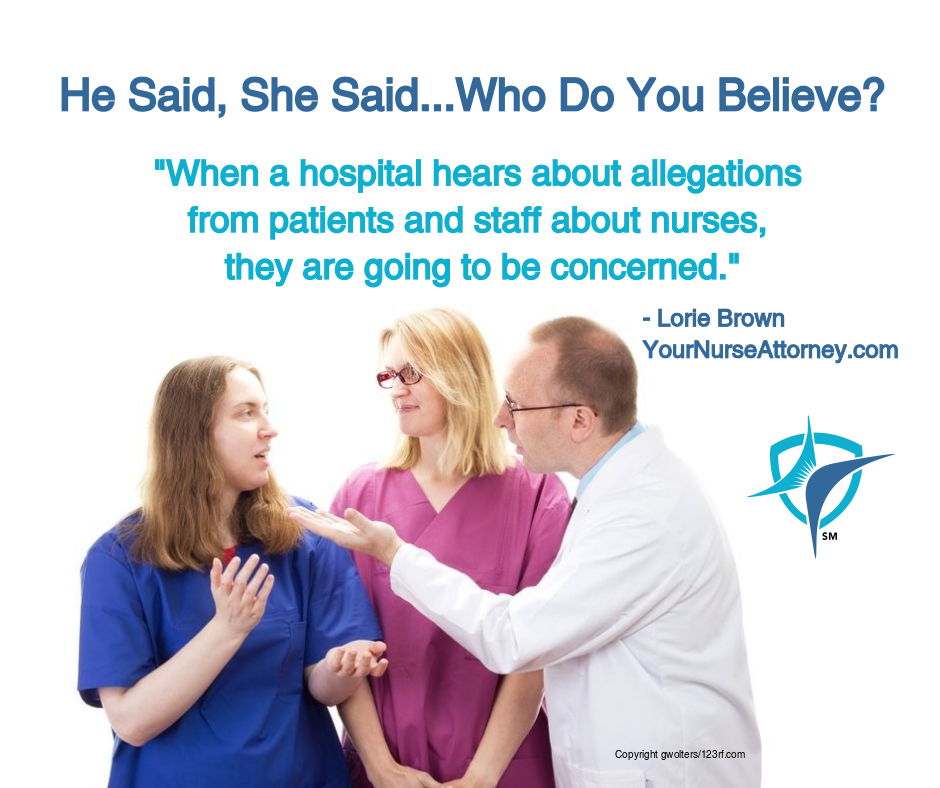 One of the hardest things about representing a nurse before the Board is that anyone can make an allegation against the nurse and report it.  Many times, these can be a "he said … she said" situation.
"The nurse gave me only 1 type of codone instead of 2!"  "The nurse held my arms so tight; I got a bruise!"  "The nurse took money from my wallet!"  And the list goes on and on.
It is so sad that these allegations are made and the ones in the previous paragraph are just from patients.  But coworkers can make allegations too.  "I saw her drop a medication on the floor then administer it to a patient." "My coworker was rude to a patient." When a hospital hears about allegations from patients and staff about nurses, they are going to be concerned.  In my experience, the facility usually takes the patient's side and even if the complaint is unsubstantiated, frequently the nurse will lose their job.
How can you protect yourself from these allegations?  Well, to be honest, I don't have a magic answer.
I think part of the problem is the culture of nursing.  The Board's job is to protect the public and not the nurse.  The hospital thinks the nurse's job is to promote good customer service.
About the only advice I can give would be that if you have any concerns about taking care of particular patients, voice those concerns and see if you can have your assignment changed.  It is not worth it to put yourself in a situation where a complaint can be made against you.
I frequently hear from nurse clients that a particular coworker or manager, "had it out for me."  Should you ever feel like you are in one of situations, it is better to leave the facility and find another job rather than to face an allegation.
I think it would be great if the criminal standard of being "beyond a reasonable doubt" would be applied to a complaint.  However, it's not.  The Board can listen to hearsay and if there's any concern about safety to the public, they will take action.  It doesn't seem quite right but that is what happens.
I think the best way to prevent circumstances is to avoid them.  If you feel that you should have a witness while caring for a particular patient or when you are with a coworker, bring someone with you.  Then, if you are ever called on the matter, you have some protection.  Your license is too important.
How would you protect yourself in these types of situations?  Have you ever found yourself at the center of such matter?  What did YOU do?  Let us hear your comments in the space below.