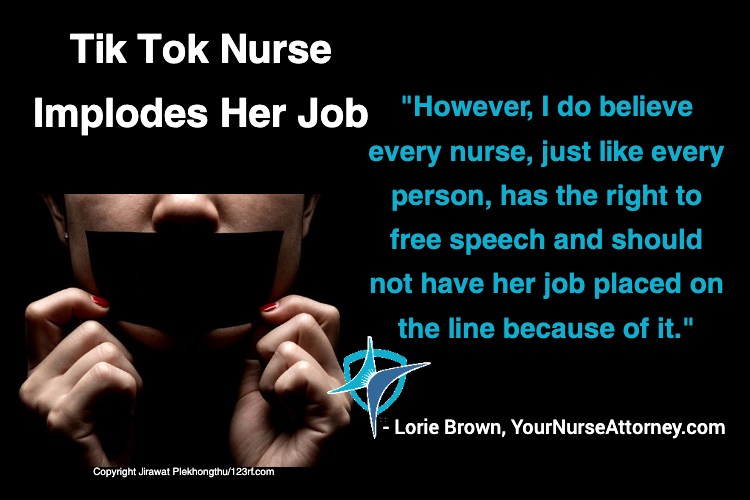 An Oregon oncology nurse posted a video on Tik Tok saying that she does not wear masks in public, continues to travel and allows her children to have playdates. Someone who viewed the video reported her to her employer.  She was placed on administrative leave.
In the video, this nurse apparently is in the break room at work and wearing scrubs with a stethoscope around her neck.  The hospital felt the nurse displayed "cavalier disregard for the seriousness of this pandemic and her indifference towards physical distancing and masking outside of work."
Her employer responded with a statement saying that the video does not speak for the health system: "We also want to assure you that this one careless statement does not reflect the position of Salem Health or the hardworking and dedicated caregivers who work here."
I have several thoughts on this issue.  The first is to advise you to be very careful of what you put on social media.  Do not do a Tik-Tok video in scrubs in your break room.  Even though you are on break, you are still on hospital property.  Even if you were not at work, you are considered a nurse 24/7 and while you may not like this, if your statement can impact your employer, that is not being professional as a nurse. Before doing a video or putting something on social media, ask yourself, "What is the purpose?"  I am not sure what this nurse's purpose was in posting her video.  If your purpose is to educate the public that is one thing but if it is to create controversy or show your hospital or health facility is doing something wrong, that is another thing.
But my biggest concern is freedom of speech.  This nurse should be able to speak her mind regardless of whether or not it's in line with company policies.
While there are very strong feelings on both sides of this pandemic, including whether to get vaccinated, whether to wear a mask, whether to travel, whether to allow your children to have playdates … all of these are very polarizing issues.  However, I do believe every nurse, just like every person, has the right to free speech and should not have his or her job placed on the line because of it. Check out these related blog posts.  https://empowerednurses.org/beware-of-using-social-media-as-a-nurse/  https://yournurseattorney.com/speech-is-not-always-free/
What are your thoughts?  Let us read your comments below.