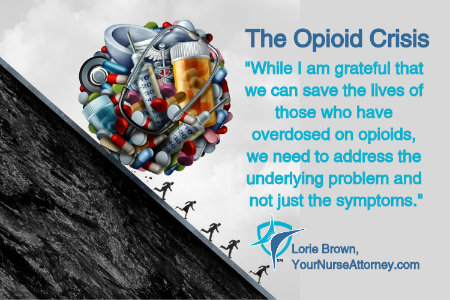 The U.S. Surgeon General, Jerome Adams (coincidentally from Indiana), is recommending that Americans carry Narcan in the event of encountering an opioid-related overdose to reverse the affects of the opiates.  It is sad when the Surgeon General needs to recommend to Americans, (the general population) to carry Narcan.  Police and Fireman already carry it.  However, if my child were addicted to opiates, I would carry one too.
Since the demand for Narcan (Naloxone) has increased, so too has the price.  A Naloxone-filled syringe used to be $6.00 each, but now could cost from $30.00 and up.  The 2-pack of automatic Naloxone injectors runs more than $3,700!
While I am grateful that we can save the lives of those who have overdosed on opioids, we need to address the underlying problem and not just the symptoms.
There is a lot of funding going into this.  Congress has approved $6,000,000,000 in funding to respond to the opioid epidemic.  I'm not sure what the initiatives are, but my concern is placing people on methadone or Suboxone is just a bandaid.  We need to get at the underlying reason for the addiction in the first place.  If it is a mental health issue, that needs to be addressed.  For example, if someone is suffering from depression causing them to use opiates to feel better, the depression needs to be treated.  Also, the addiction itself needs to be addressed with tools on how to cope with the disease.
I would like to see the change begin with medical care.  Physicians prescribe so many narcotics and continue to refill these.  I see many nurses who get addicted to opioids after having some type of surgery, treatment for chronic pain or even dental procedures.
I want to see measures taken to improve the health of our country by creating wellness initiatives rather than symptomatic care.
What are your thoughts?  Let me know by adding your comments below.