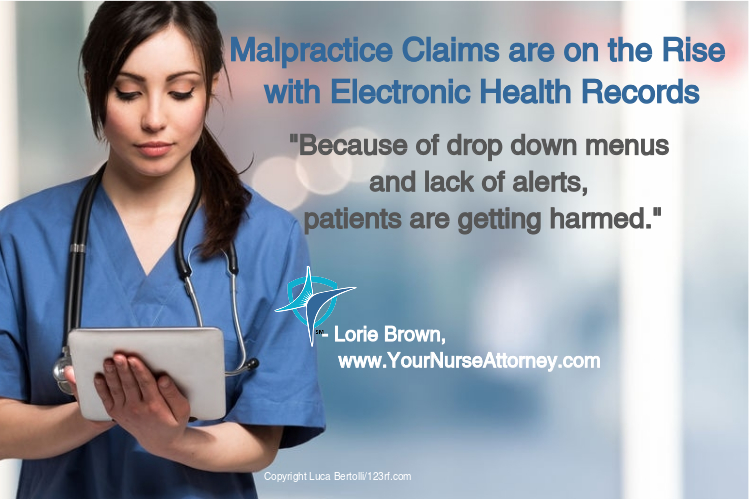 According to The Doctor's Company, a medical malpractice insurance company, more and more claims are being filed as a result of Electronic Health Records (EHR).  Because of drop down menus and lack of alerts, patients are getting harmed.
In one example, a physician intended to order 15mg of Morphine.  The drop-down menu gave him the choice of 15mg or 200mg.  The physician mistakenly ordered the 200mg.  The patient took the 200mg Morphine with Xanax and became somnolent and spent the night in the hospital.
There are numerous problems with copy and paste.  In one case, a 38-year-old man presented to his PCP with symptoms of shortness of breath and dizziness.  The man died 5 days later of pulmonary embolus, the Plaintiff's Attorney was able to show that the physician copied and pasted his previous note into the visit just prior to his death.  Not only is this information available in the audit trials to show everything which was done to the EHR, but the same exact vital signs were copied, and numerous spelling errors were noted in the previous note and copied with the same errors.  The allegation was failure to properly assess this man.  Had he been properly assessed; the physician would have been able to identify signs and symptoms of a pulmonary embolus.
Risk management strategies include:
Do not copy and paste anything except patient's past medical history if you are sure it is accurate.
If your EHR auto populates information, ask that that feature be removed.
Be extra careful in selecting items from a drop-down menu and make sure it is correct.
Make sure you read and review prior medical records, so you have an accurate history.
If you use a scribe, you are responsible for the entry so double check to make sure it is accurate.
It is easy to save your charting for later and even do it at home but how do you remember the information? Remember attorneys can find out what time the patient's visit was scheduled and what time the entry was made.
What do you do to avoid malpractice with EHR?  I would love to hear your comments below.