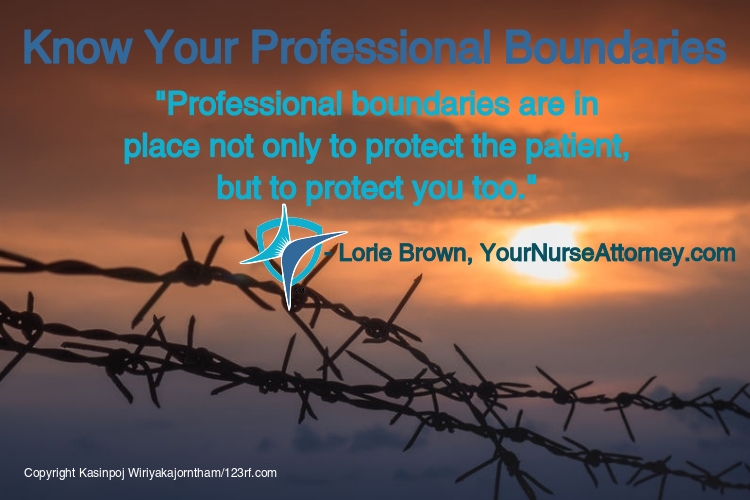 When I was practicing years ago, there were no rules regarding professional boundaries.  I took care of people in the community where I lived and everyone knew each other.  When I would run into them at the grocery store or the mall, I would always say "hi!"  Some of my colleagues even went to former patient's houses for meals or holidays.
Nowadays there are rules regarding professional boundaries.  As much as we would like rebel against these rules, they really are designed to protect us.  Lately, I have seen nurses who date patients after their care has ended and then the relationships go sour and the former patient files a complaint against the nurse.
I've also seen a nurse who just wanted to help a patient in a nursing home who asked her to go to the bank machine across the street and withdraw money from her account for her.  The nurse would take the patient's card and her PIN, go across the street and bring the patient back cash. The nurse even went on her break.  The nurse thought she was doing the patient a favor.  However, the patient reported that the nurse stole thousands of dollars from her account.
Lastly, another nurse befriended a former patient of hers and she would meet him frequently outside of work.  He then made false claims against the nurse and told her if she would pay him some money, the complaint would "go away".
As you can see in each situation, the nurse violated her professional boundaries by becoming involved with a patient above and beyond what she was employed to perform, nursing care.   In each case, the nurse thought she was helping a patient or in the case of relationship with a former patient she married, a life partner.  But in each of these situations, they backfired against the nurse and resulted in Nursing Board claims.  Professional boundaries are in place not only to protect the patient but to protect you too.
As a nurse, it's fine to say hello to former patient you see on the street but that is it.  Do not establish a relationship or friendship with that person.  Once the nurse-patient relationship ends, it is okay to befriend a patient but be careful of what happened in the above situations.
Your license is more important and it's important to do what you can to keep it safe.
I would love to hear any stories of nurses' good deeds that turned bad like the ones above and how they handled it.  Please share in the comments below.