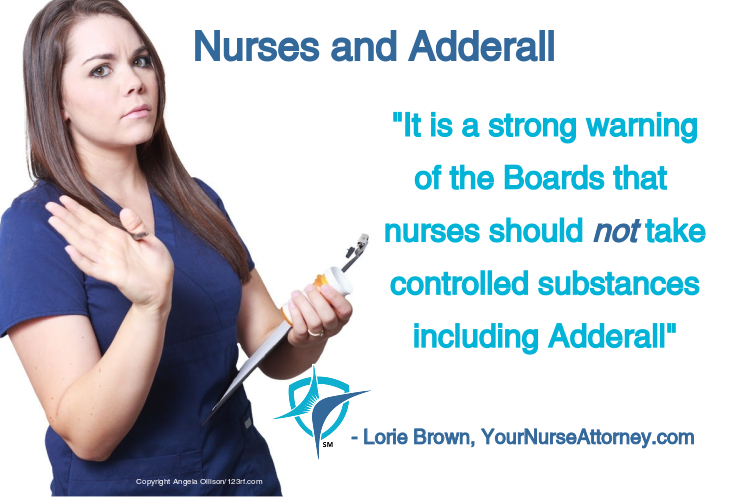 Nurses work crazy shifts and can have trouble sleeping. In addition, we are being bombarded with information and get interrupted approximately every 5 minutes.
It would make sense that a nurse would go to her physician and say, "I'm having trouble focusing." The physician prescribes Adderall and, at first, it's amazing. You not only find that you suddenly have all this energy and are extremely focused, but you're also losing weight as an added benefit!
Then nurses start thinking, "Oh, how could I have ever gone on without this?" Make no mistake, Adderall is an amphetamine, a controlled substance and is addictive. Some nursing students even get addicted to Adderall which they use to help them study.
If you participate in a peer assistance or substance abuse program, note that these programs are abstinence-based meaning, you will have to get off of the controlled substance it in order to participate.
It can be difficult for a nurse who has taken Adderall for a long period of time to get off that medication. The nurse may feel like they can't focus as well and feel like they need it for their job. But, when asked to come off it, some nurses choose Adderall over their license.
In an article published by the Louisiana State Board of Nursing, "The Epidemic of Controlled Dangerous Substance Abuse," "Adderall has been called the most widely abused prescription drug in America." For full article, click here.
The Louisiana Board questioned whether nurses and nursing students should be allowed to practice while taking controlled dangerous substances which includes Adderall. The article goes on to state that up to 25% of college students have abused amphetamines.
According to the National Institutes of Mental Health, an estimated 4 to 5% of adults have ADHD and there are non-controlled substances which work for nearly all these patients.
"We believe that a professional who wishes to take controlled medications should make a choice between the medication and the profession. Professional Licensing Boards in all professions understand that the risk of impairment and damage to the public greatly outweighs any possible individual benefits in specific cases where practice of a profession and concurrent use of controlled medication is at issue. The overwhelming majority of such organizations choose to take the safest course and prohibit use of controlled substance medications or alcohol while practicing a profession. We agree with this policy." [Click here to read more]
Therefore, it is a strong warning of the Boards that nurses should not take controlled substances including Adderall. Even if you have a valid prescription and your hospital may view a positive drug screen as a negative, it may come back to haunt you should you ever be called before the Board.
I would like to hear your thoughts on this topic. Please share your comments below.