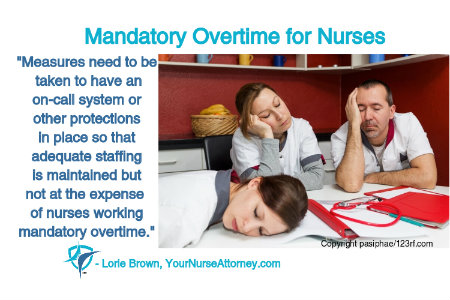 Are you required to do mandatory overtime at your hospital?  In Ohio, lawmakers are trying to ban mandatory overtime as a condition of employment.  Nurses are very scared that if they say "no" to mandatory overtime that they will be fired.
Due to the nursing shortage, hospitals feel they have no choice but to have nurses work longer hours to cover more shifts.  But, unfortunately, this creates a danger to the patients and to those who care for them because the nurses will be exhausted.  Interestingly, Ohio was the state where a nurse was killed in an auto accident when she fell asleep at the wheel after working mandatory overtime.  Her husband filed a lawsuit against the hospital.
It is sad that laws need to be put into place to make sure nurses are not working unusually long shifts.  Laws are in place that limit work hours for airline pilots, truck drivers and others.  Nursing should be one of those professions with limited work hours.
Minimum mandatory staffing would go a long way, however, under such a directive, hospitals may require having nurses work over to fill that minimum requirement.
Minimum staffing requirements were recommended to improve patient care but, if nurses are working longer hours to fulfill that minimum mandatory requirement, then that is not helping patients because the nurse will become exhausted.
Measures need to be taken to have an on-call system or other protections in place so that adequate staffing is maintained but not at the expense of nurses working mandatory overtime.
What are your thoughts?  Does your hospital have mandatory overtime?  Please let me read your thoughts in the comments below.