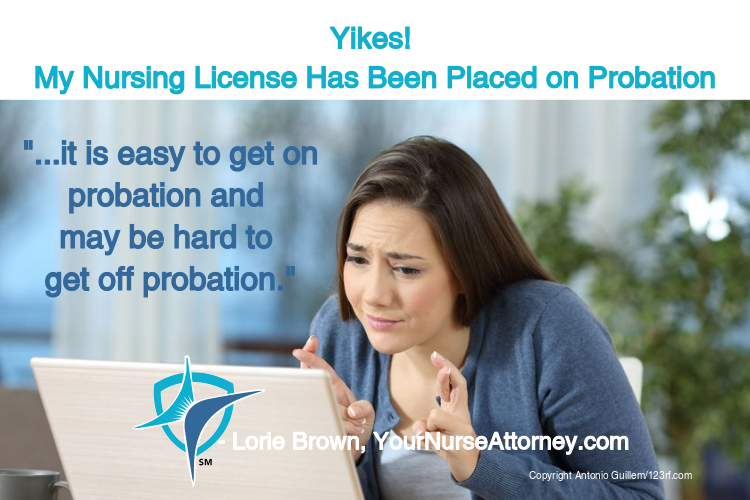 Each year 7,000 nurses have some type of discipline put on their license.
When a Board disciplines a nurse, it can usually do 1 of 4 things.
Give the nurse a reprimand which is like a slap on the wrist.
Place the nurse's license on probation.
Suspend the license.
Revoke the license.
The most common option seems to be placing the nurse's license on probation.  This is called an encumbered license which will be noted in the public records.  A nurse on probation may have a difficult time finding a job with an encumbered license and it must be disclosed to any potential employer.
Furthermore, a potential employer can easily find this information on nursys.com or on the website of the Nursing Board in your state.  In addition, the nurse will be reported to the National Practitioner Data Bank any time an action is taken against their license.
One of my sayings is it's easy to get on probation and may be hard to get off probation.  At least in Indiana, to get off probation, a nurse must petition the Board and actually attend a hearing where the nurse is put under oath and the proceedings are transcribed by a court reporter.
The nurse then must present an opening statement, call witnesses, introduce evidence, cross examine any opposing witnesses and then present a closing argument.  This is a legal proceeding and the nurse has a right to be represented by an attorney.
The nurse not only must show that she has complied with every requirement of the probation but also present that the conditions that led to her license being placed on probation are no longer present.
My best words of advice are to take your probation seriously and comply with every requirement as if your livelihood depended on it!  In fact, it very well may determine your future career as a nurse.
If you are required to submit documents to the Board, make sure that you send them via certified mail or, in the alternative, by email … and make sure you keep copies of everything.
As I noted, finding a job may be difficult while on probation however, nurses are needed now more than ever.
Rather than just submitting an employment application online, I advise you to find out who the "decision-maker" is and talk directly to that person.
Probation is not the end of the world but you do want to avoid that possibility because prevention of a problem is the best defense.