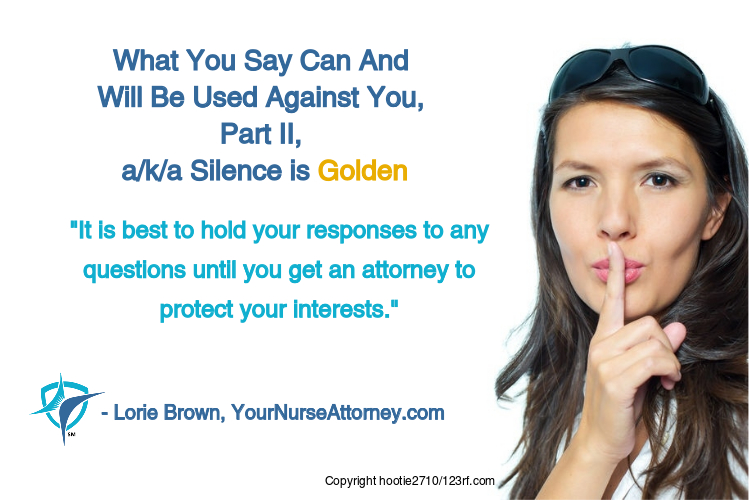 Nurses always want to be helpful and will share with anyone. However, there are some instances where silence is golden!
1. WORK STATEMENT. If your supervisor calls you in wanting you to write a statement, be very careful. Don't be pressured into writing a statement. Or, if you want time to think about it first, definitely do so. When you are pressured into writing a statement, read it and read it again to ensure that it is accurate because it could be used against you, for example, at the Nursing Board. Remember, silence is golden!
2. DEA ENCOUNTER. If the DEA shows up telling you it's best not to be associated with the physician for whom you work because he is in trouble, be very cautious. If they want you to sign a voluntary surrender of your DEA license saying, "You can always get it back later" … realize it is a very bad idea! They will seem like they are doing you a favor and tell you that it's in your best interests which likely will be followed by their trying to talk you out of getting an attorney. Again, silence is golden!
3. POLICE INVESTIGATORS. If the police ask you to come to the station, note that you are going to be videotaped, a fact they may not tell you. The police will come out looking like 21 Jump Street, all kind, cool and nice to you until you spill your beans. Then they will turn around and file charges against you. Silence is golden!
4. NURSING BOARD INVESTIGATORS. If a Nursing Board investigator comes to your home or your work, they will present themselves nicely and say they just want to get your side of things. Any statements you make against your best interests will be used against you. Silence is golden!
5. OIG/MEDICAID FRAUD CONTROL UNIT INVESTIGATORS. Like the others, these investigators will be courteous and seem all nice. Many are former police officers trained to know exactly what to say to get you to spill your guts.
What most nurses probably don't know is that talking to these investigators could lead to criminal charges. They all may be friendly and want to talk to you about where you work or where you used to work. Again, anything you say can and will be used against you.
Moral of this writing, silence is golden!  Anything you say can and will be used against you.  I've seen it countless times where nurses, wanting to be helpful, will answer questions which winds up leading them to trouble.  It is always best to tell any of these authorities, from your boss to police officers, that you want to think about the situation and will get back to them. 
Of course, in situations like noted above, it is best to hold your responses to any questions until you get an attorney to protect your interests.