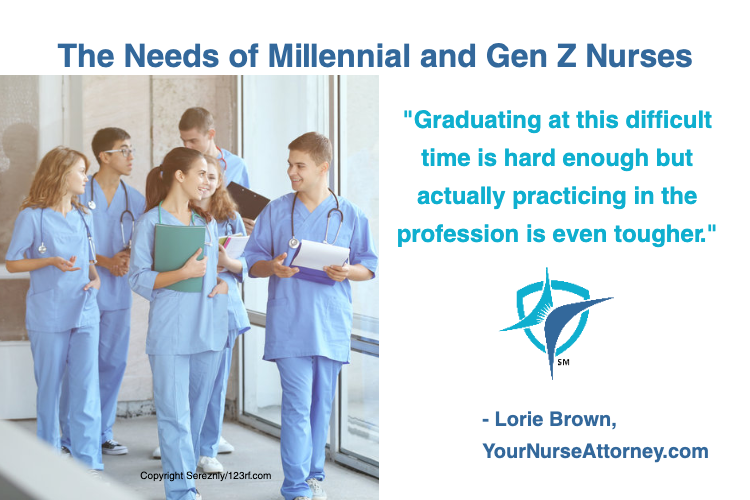 Imagine being one of those who graduated from nursing school in the middle of the global pandemic?  It's like going into a M*A*S*H* unit during the Korean War without having any training or experience.
Each generation of nurses has its own needs and, right now, the Millennials and Gen Z- Zoomers, those born between 1981 and 2012, are the hardest hit.
The number of patients being treated in hospitals has hit the roof.  Those who used to be ICU patients are now on general floors and some are literally being kept alive on life support in ICUs with every imaginable kind of drip.
Graduating at this difficult time is hard enough but actually practicing in the profession is even tougher.
A study by the American Nurses Foundation and Joslin Insight showed 10 needs of Millennials and Gen Z- Zoomers.
On-The-Job Training and Support. Keep in mind these nurses graduated from nursing school amid a huge nursing shortage that was complicated by a worldwide pandemic.  Yet, these graduates didn't have the experience and training to perform at a high level of proficiency.  Remember how long it took you to get your nursing "legs"?
Mental Health Support. Approximately 60% of today's nurses are ready to quit the profession.  They often encounter extremely grave medical situations and even death daily.  Many of the more experienced nurses are retiring, leaving the bedside, or just down right quitting, these new nurses are left to fend for themselves.
Financial Support. The salaries for nurses have not kept pace with the current cost of living and as inflation continues unabated, they are falling behind in that race.  One nurse can barely afford her $2,000 monthly rent.  Others are having great difficulty in making the proverbial "ends meet."  Nurses deserve to enjoy the quality of life that they want meaning the basics of being able to pay their bills.
Respect and Recognition. It's sad to say that nurses are often taken for granted and are not being shown the value and respect that they deserve.  That is why I urge you to never say, "I am just a nurse."  This devalues you as well as the profession.
Improved Working Conditions. Nurses want to create and enjoy an environment where they can succeed.  However, employers are sticking with antiquated models, seemingly hesitant to flex to meet the needs of nurses and to move ahead with the times.
Long Term Workforce Solutions. There are no such answers that can make sure we have an adequate number of nurses to meet the needs of an aging world population.  This was highlighted in a report by the Institute of Medicine.
Patience. As I say be patient with your patients and fellow coworkers.  Every nurse knows of the saying that goes, "Nurses eat their young."  This is neither a time nor place to eat to the young.  We need every nurse to provide the best care to make a difference in their patients' lives as well as for other medical team members.
More Flexible Working Hours. Most hospitals schedule on 12-hour shifts.  Aside from picking up an entire shift, there are no other choices.  I would like to see flexibility with hours.  Yes, it will mean use of creativity in staffing by reducing shift hours to 4, 6, 8 time blocks.  If the nurse can pick the number of hours that meets her needs and ability, the value in use of that time is greatly enhanced.
To Be Fulfilled. I believe nursing in is your DNA and it is a calling.  But being a calling does not mean medical facilities can take advantage of nurses.  I know nurses would rather be fulfilled in knowing that they're doing a great job while getting the support and appreciation that they need and desire rather than money.
Continuing Education Support. Years ago, there was a trend toward having a Bachelor of Science in Nursing for an entry level requirement.  But many cannot afford to pay for the 4-year education.  Many today who already have that bachelor's degree or 2-year Associate degree, are still paying pay student loans.  There should be options, including but not limited to grants, to encourage those going into nursing to reach their goal.  There once was a time when education for a master's degree was given free.
The way nursing is practiced in hospitals is outdated and needs to change with the times.  Hopefully, our Millennials Gen Z- Zoomers will be the leaders to make that happen.