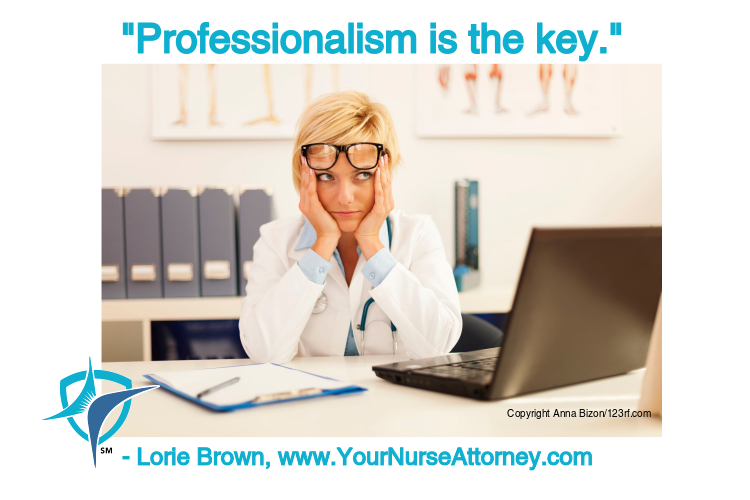 Recently I attended the Nursing Service Organization Annual Summit where they discussed the results of their annual statistical analysis of claims against nurse practitioners.  They look at things such as area of practice, resultant injuries, alleged breaches in the standard of care and on their license protection claims.
Here are some of the risk management strategies that they recommended.
Professionalism is the key. Nurse practitioners have an amazing way of developing a great rapport with their patients.  Establishing the rapport and complying with your employer's standards, policies and procedures is a great step in reducing your risk as a nurse practitioner.
You will "live and die" by your documentation. Therefore, document, document, document!  It is important to note in your chart your reasons for your clinical decision making process and rationale.  If your reasoning is supported in the chart, that goes a long way to protect you.  There has never an attorney who has said, "I wish they didn't document so much."  It has always been: "I wish they would have documented more!"
Additionally, it is important to document all discussions, consultations, clinical information along with the risk benefits and alternatives to treatment options. If you hand out any educational materials, that also should be noted.
If the patient it is not compliant, it is important to note that fact in the medical record. You should also document any efforts you have made to encourage compliance.  Simply stating that the patient was noncompliant is not enough.  As a health care professional, you have a duty to warn the patient of the risks of their noncompliance and the benefits of their being compliant.
You do not have to provide care to patients who are not compliant. If you have concerns about continuing to provide care to a noncompliant patient, bring that concern to your employer's attention and consider terminating the care for that patient.  Unlike nursing, as a nurse practitioner, we can somewhat choose our patients.  If you have a concern that a patient may sue you or is not compliant, you can discontinue services by giving them 30 days notice and send the letter by certified mail.  You are required to provide emergency care for the 30 days, and it is helpful to refer them for other care.
Do you have any suggestions for other risk management strategies?  I'd like to read them in the comments below.