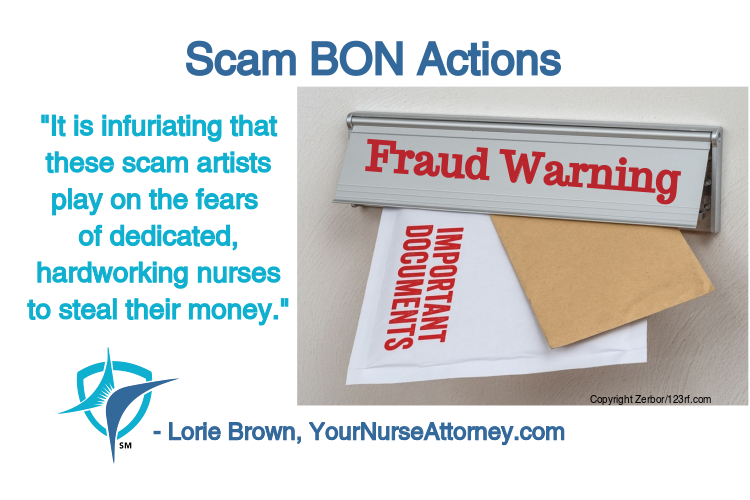 You receive a letter from the Board of Nursing, and you're scared to death!
Would you believe that, in Idaho, nurses are receiving mailings from the U.S. Department of Justice Drug Enforcement Administration accompanied by a cover letter from that state's Board of Nursing notifying the recipient that their license is to be suspended.  Click here.
On first blush, it appears to be official and all legal in notifying the nurse that their license is about to be suspended.  It has the nurse's name, registered address, an investigation number and even her nursing license number.
The letter asks for money to post a bond which MAY be refunded once the case is resolved.
These are FAKE!
There are red flags throughout this letter.
(1)  The Board of Nursing would never ask for money upfront.  You have an opportunity to contest your matter.
(2)  One of the requirements cited in the letter was that the nurse was not to share or disclose anything about this "investigation" to any third party.  An attorney is a third party.  This letter does not say you have the right to talk to an attorney.  This is paramount language for all Board matters.  Some letters even say if you choose not to hire an attorney, we will consider this a waiver of your right to counsel.
(3)  The letter demands you submit a refundable government security bond for which the Board never requests.
These are huge red flags that these letters and documents are not legal.  In fact, the mailings are an act of fraud.
Unless a Board of Nursing takes action for emergency suspension, which is required to give notice, the nurse's license cannot be suspended in any way without first having an opportunity to be heard.   The Board also would have to give the nurse an opportunity to seek legal counsel.
It is infuriating that these scam artists play on the fears of dedicated, hardworking nurses to steal their money.  A nurse getting such a communication would be terrified in thinking that their license is about to be suspended.
Any nurse who receives a suspicious letter from the Board of Nursing, any state or federal entity, should have as their first response to seek the advice of an attorney.
These scams are facilitated by the fact that a nurse's information is a matter of public record and the thief has no challenge in getting the victim's address and license number to initiate their crime.
Hopefully, you will note and take heed of the "red flags" noted above to protect yourself by immediately seeking the assistance of an attorney should you ever receive such mail.
Pass my warning around to all your nursing colleagues and please report any such scams to the appropriate authorities.  This is our best way stop or at least curb this type of criminal behavior.