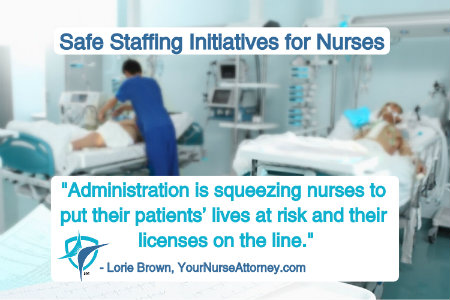 As nurses, we are the front line of patient safety. These days, hospitals are run as corporations and tend to put profits ahead of patients.  We need to change this.  People come first!
Because hospitals are now run like businesses, productivity experts and personnel who are not nurses, ask us to do so much more with less.  Administration is squeezing nurses to put their patients' lives at risk and their licenses on the line.
I am all for mandatory nurse patient ratios.  While I think it is important for nurses to have safe staffing, putting a number on the nurse-to-patient ratios can have adverse effects which protections need to be added to the legislation.  I would love to see mandatory staffing based on acuity.  The recommended staffing ratios for a medical/surgical unit is 1 to 4.  However, if you have 4 fresh postop patients, it would be impossible to take vital signs every 15 minutes on those 4 patients!
The proposed staffing ratio in critical care is 1 nurse to 2 patients.  Again, if you have a patient who is extremely unstable, that patient should be a 1 to 1.  By requiring mandatory staffing, the ratios should be a maximum meaning the most a medical/surgical nurse should have is 4 patients.
Legislation in California requires minimum staffing levels.  However, there have been some unintended adverse effects of the legislation.  For example, although there is mandatory nurse-patient staffing, many hospitals have cut support staff to balance out their budgets.  We need staffing legislation and whatever requirements are promulgated should ensure that there are no unintended side effects.
Something needs to be done to ensure that nurses are not putting their licenses on the line or putting patient lives at stake.  Our voices need to be heard and we need to fight for our profession and our patients.  I would also love to see minimum staffing at long term care facilities.
What are your experiences with safe staffing?  Do your institutions have their own mandatory staffing requirements.  Please share your thoughts with us in the comments below.