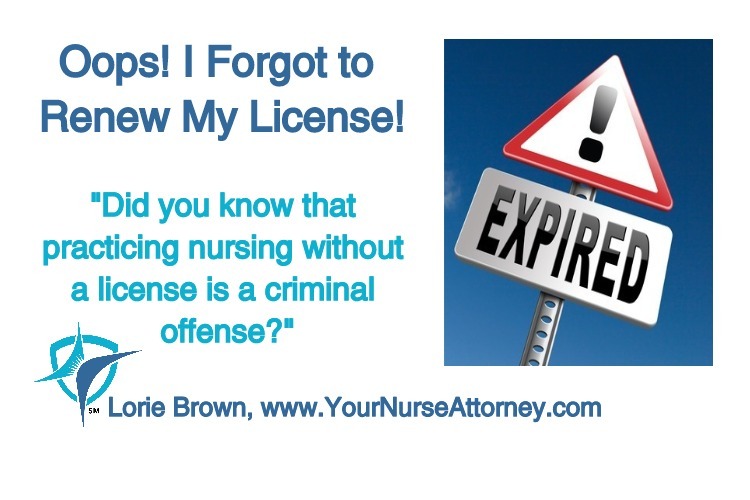 I don't know what it's like in other states, but when Indiana went to electronic license renewal, they no longer sent reminders of license renewal to health care professionals. Some would get an e-mail and sometimes it would go to spam. Who knows?
Every even numbered year, by October 31st, licensed practical nurses in Indiana had to renew their licenses while registered nurses were required do so by the same date on the odd numbered years. In our office, we learn every year that somebody forgot to renew their license.
Did you know that practicing nursing without a license is a criminal offense? It also is considered to be fraud and material misrepresentation. In the former, it's billing fraud because when a hospital bills for a room, the cost of registered nurses is included with the fee for the room.
Many nurses who say "Oops!" feel that forgetting to renew is no big deal, "I'll just renew it now." Not so fast there. It's much more than that because of the other ramifications. Even if you don't need an R.N. to do your job, if you perform any nursing type services (assessing, planning, intervening and/or evaluating), it is still a practicing nursing without a license. You can't even sign R.N. after your name if you don't have a license. Signing R.N. after your name when you are not licensed is also fraud and material misrepresentation.
Therefore, to counteract this, I advise that you put in your calendar, on a recurring basis, a reminder for every time your license renewal is due, just to ensure this will never happen to you.  Another services is from the National Council of State Boards of Nursing (NCSBN) where you can sign up to receive free renewal reminders when your license is about to expire. Click here.