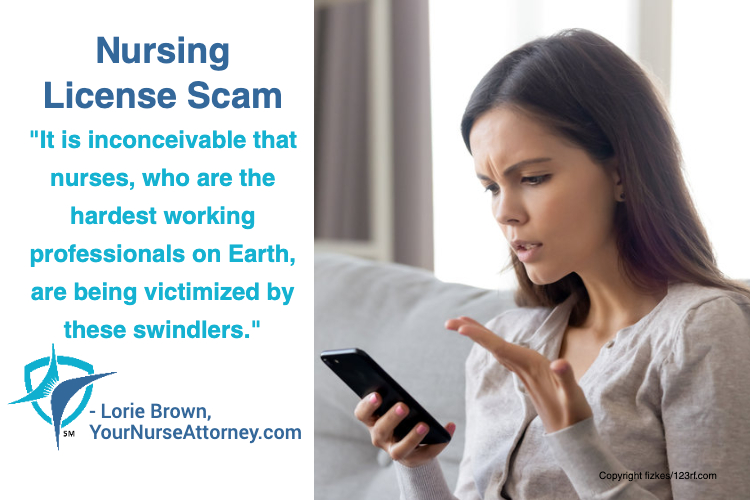 Last year I wrote a couple of blogs about scams taking place against nurses in Idaho and Missouri.  Well, now it's hitting closer to home and is reaching into Indiana.
The office of the Indiana Attorney General has received numerous complaints of nurses receiving calls from scammers posing as FBI agents telling them that their licenses are suspended and will not be lifted until a fine of thousands of dollars is paid.  The thieves ordered that the money be wired to them as a government security bond fee.
It is inconceivable that nurses, who are the hardest work professionals on Earth, are being victimized by these swindlers.
Unfortunately, home addresses and phone numbers are readily available through a public records request.  This provides the scammers with a massive and almost complete list of victims for this scheme.
Should you receive such a letter or phone call claiming you owe this debt, realize without hesitation that it is F-A-K-E!  Then follow these steps.
First and foremost is to check with the Indiana Professional Licensing Agency's website at www.in.gov/pla/license/free-search-and-verify/ to see if your license is officially listed as "active." If it is, then you are safe and your license truly is NOT suspended.
The scam approach will order you to not disclose anything about this matter to a third party. This is a red flag because, as you can surmise, an attorney is a third party to whom you have every right to speak with.
Should you ever be asked for a wire payment for anything, this is a huge red flag that a fraud ploy is afoot because such payments are difficult to trace or reverse.
The Board will never request a refundable government security bond.
Note too that the Licensing Board can issue fines that come to no more than $1,000 per violation based on agreed settlement or final adjudication of an Administrative Complaint. If someone is demanding you pay a large fine without an
Administrative Complaint, be very guarded and suspicious.
The Licensing Board will never directly call you unless you have an emergency suspension hearing or a pending matter.
Be suspicious if you feel the caller is using "high pressure" tactics.
Report any suspected fraudulent activity immediately to the Professional Licensing Agency at (317) 234-2043 or at pla2@pla.in.gov.
It should go without saying that anyone accused in a licensing matter be given an opportunity to be heard.  The only time in which that may not occur is if there is an emergency suspension for which notice is required, however, that could mean a phone call or email the day of the hearing.  But, again, you will be afforded an opportunity to be heard.
Be a savvy conscious nurse and share this article with your colleagues.  Tell them to report any suspected fraud to the appropriate authorities.
This is the best way to fight these unlawful activities.