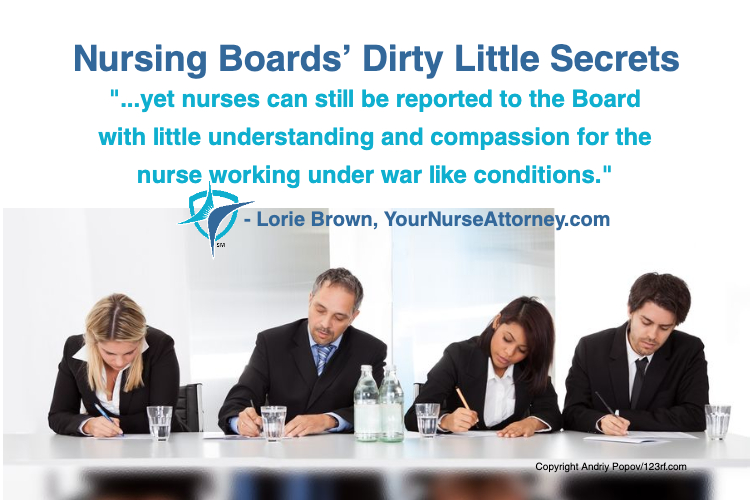 I would think with the pandemic and with nurses being the number 1 most trusted profession (and in dire need) that nursing boards would have compassion toward nurses who are asked to work harder with more acute patients and with less staff.
These conditions make a recipe for a disciplinary matter before any board. Interestingly, patients' right to sue for malpractice is curtailed during the pandemic because of the crisis and decreased staff yet nurses can still be reported to the Board with little understanding and compassion for the nurse working under war like conditions.
A board's mission is to protect the public … not the nurse. If there are any concerns about public safety, specifically if working short-staffed, a board will take action. A recent article on MedPage Today discussed a national trend of boards being more aggressive with discipline and intimidating nurses. Maryann Alexander, Chief Officer of Nursing Regulations with the National Council of State Boards of Nursing states, "To my knowledge, they're doing an excellent job. I know they are extraordinarily conscientious about their mission and their role."
However, there are nurses (not attorneys) who consult with others facing board reviews who state otherwise. Among some of the states where these nurses have grievances are California, Arizona, and Missouri.
I caution that it is always best to hire a nurse attorney who is experienced in these matters rather than a nurse consultant who has only gone through such a matter.
A problem with many nursing boards is that they are mainly composed of educators or administrators rather than nurses who actively practice in the trenches like the people who they discipline. Even some consumer board member representatives were former health care executives.
In a malpractice case, one would have to have an expert working under same or similar circumstances to determine whether the nurse met the standard of care. The same should be true for nursing boards.
The National Practitioner Database (NPDB) reports from 2012 to 2016 actions against nurses have steadily increased but actions fell slightly from 2016 to 2019.
Also, actions against Advanced Practice Nurses increased 5-fold during the period of 2001 to 2014.
In my own personal experiences representing more than a thousand nurses, I do believe that the discipline is harsher today than when I first started as an attorney 30 years ago.
Also increasing over that same period are the number of complaints for investigation filed against nurses. An investigatory complaint means an inquiry of the nurse which may result in discipline.
Nurses also can be disciplined for personal issues as well such as neglected child support payments and a failure to pay state taxes.
Unfortunately, even if a nurse believes they have received an extraordinarily harsh decision, most nurses cannot afford to appeal it. The standard for review of an appeal by a court is that the decision must have been arbitrary and capricious. If there's any basis to discipline a nurse, many courts will uphold the board's decision because there is an explanation or justification for the board's decision which can be reasoned from the body of evidence.
Therefore, the standards are vague. There are no bright lines in whether certain actions amount to a violation of the Nurse Practice Act and, if they do, what is the appropriate sanction.
It's interesting that the same action in one state may get a result that would lead to a different result than in another state.
Unfortunately, it may get to the point where nurses may consider which State's Nursing Boards are more lenient when they choose to practice in a particular state.
Please give your comments below as to whether you believe there should be discipline uniformity among the states and what can be done about the egregiousness of board actions.