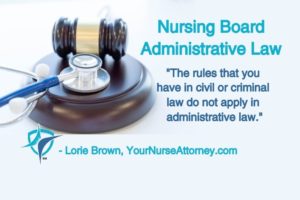 There are different types of law.  Civil law, which guides us in the civil area of our lives.  Criminal law, which have consequences for your freedom.  There is military law which, obviously, affects those in the armed services of our country.  Lastly, there is administrative law, a subset of civil law which governs bodies such as nursing boards.
Statutes that govern administrative law are referred to as the Administrative Procedures Act ("APA"). Or in Indiana, the Indiana Orders and Procedures Act (IOPA). The rules that you have in civil or criminal law do not apply in administrative law.  For example, hearsay, which is an out-of-court statement used to prove the truth of the matter asserted, is not admissible in criminal or civil law.  A person must be in the courtroom to testify under oath and counsel has the right to cross exam the witness.  This is unlike nursing boards where any out-of-court statement, whether it's a document, letter from a witness, etc., can be used against you.
If you have a matter before the nursing board, it is important to know the APA of your state.  Therefore, you can make sure that whatever rights you have are protected.
In Indiana, all nurses used to be given a Pre-hearing Settlement Conference.  I particularly enjoyed these because if the matter could not be settled with the attorney for the state, we likely were able to settle it after we met with the Board Member who participated in the conference.
According to Indiana's IOPA now, the Indiana Professional Licensing Agency is no longer automatically scheduling Pre-hearing Settlement Conferences.  The accused nurse must ask if she wants one of these conferences.  So it is important that the nurse knows they must ask.
It also once used to be that a Pre-hearing Settlement Conference was confidential.  Now, these conferences are public and open to anyone who wants to listen.  Unfortunately, there are confidential matters discussed in these conferences which, as counsel for nurses, we do not want to be made public.
In Indiana, nurses do have the right to go to mediation under our state's IOPA.  As of yet, we have not had to use this.  It leaves a matter open to a lot of questions as to considerations such as is a certified mediator needed and who will pay for the mediation?  However, this may be a good avenue if the issues are not able to be resolved.
Make sure you and your attorney are familiar with the Administrative Procedures Act to ensure that you are availing yourself to all the rights and protection that you can.