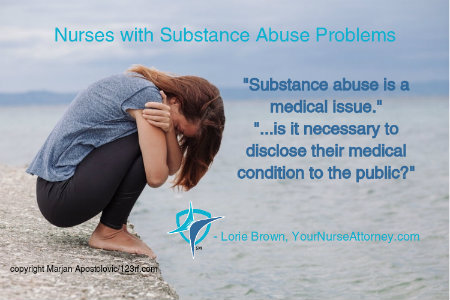 Recently, an article in The Atlanta Journal Constitution detailed how the Georgia Board of Nursing secretly handles more than half of its disciplinary cases.  What I gather from the article is that nurses who are put into a monitoring program, as long as they are compliant, will have not have discipline against their license.
The article pointed out that in 2017, the Board has 333 new disciplinary orders.  Of that number, 54% were private with just under half of that group being alcohol or drug related.  In order for the Board to issue an emergency suspension, the Georgia Attorney General's office says the nurse must be an imminent threat to the public.
By the time the complaint reaches the Board, the accused nurse has usually already entered rehab and has been viewed as safe.
At one time in Indiana, if a nurse entered into a monitoring program, then no action would be taken against their license as long as they were compliant with the program.  However, since that time, the Board has gone 180 on that position and now feels that anyone with a substance abuse problem should be disciplined and have their license placed on probation or suspension.  Also, that discipline should be public record for all to see.
Substance abuse is a medical issue.  I don't believe that anyone wakes one morning deciding to abuse drugs.  I think there is a part of the brain that craves these substances and there are some people who are more susceptible to substance abuse than others which may indicate the problem could be genetic.
The article continues in discussing other types of Boards and what are considered private vs. public.  The Board of Physical Therapy in Georgia, almost all of their orders are private, whereas the Medical Board has only 18% considered to be private.
It would be nice to see some consistency among Boards and states.  Just because someone is lucky enough to live in Georgia when they develop their substance abuse problem, versus their peer in Indiana, why should each be treated differently?
I believe everyone deserves a second chance.  If a nurse develops a substance abuse problem, is able to successfully participate in the monitoring and is active in their recovery, is it necessary to disclose their medical condition to the public?
However, if they have a relapse, at least they have the initial opportunity and then it can become public record.
Do you believe the public has a right to know if a nurse had a substance abuse problem and is in recovery?  Do you think these matters should be private?  I would love to hear your thoughts in the comments below.