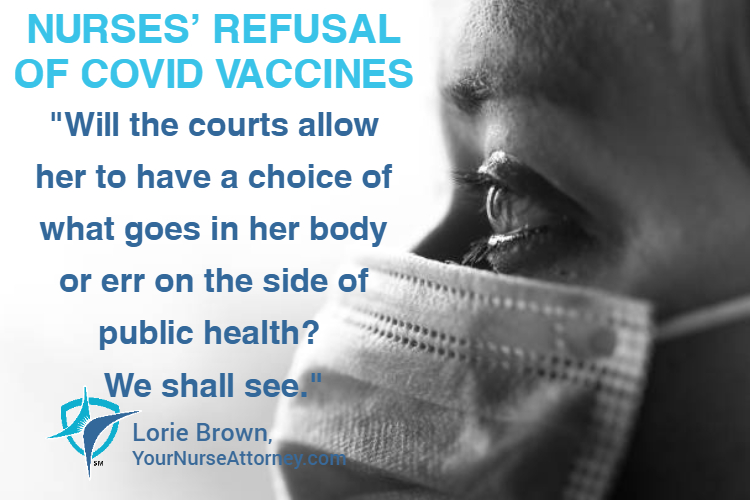 I had great trepidation to write this article because it is so controversial among many nurses.  However, in my desire to share with you real world happenings, I chose to go ahead to write about this subject.
Houston Methodist Hospital's Jennifer Bridges, R.N., has worked with COVID patients since the pandemic began.  She would assist patients to a window to see family members and at times hold a phone to their faces while family members spoke with them, many for the last time.  She suffered numbness in her arms from holding up iPhones or iPads for hours.  She risked infection, experienced the psychological toll of witnessing firsthand families in trauma.
She a times would find herself drenched in sweat and light-headed at the end of shifts.  Helping her patients was a task in which she went above and beyond.
Last month, her hospital became the first hospital in the country to require mandatory COVID vaccinations for all employees.  Those employees who did not comply and failed to provide proof of vaccination by this past Monday, June 7th, were suspended without pay for 2 weeks.  After that, they would be subject to termination.
Nurse Bridges, by no means an anti-vaxxer, received her annual flu inoculations as well as all the other recommended vaccines.  However, she did have concerns about taking the CV-19 vaccines because they were rushed onto the public with Federal Drug Administration (FDA) "emergency use authorization" rather having gone through the normal prescribed testing protocols previously required for vaccines prior to it going to the public.  Essentially, rather than the vaccines first being tested on animals, the public itself became the testing subjects.
She since has encountered dozens upon dozens of patients who experienced adverse reactions to the vaccines such as blood clots, heart arrhythmia, swollen appendages, etc.
Altogether, she does not feel comfortable at this point with the vaccines but maybe after they have been evaluated more in depth or even properly tested by the FDA, she would be more agreeable to accepting the vaccines.
In her home state of Texas, apparently only 33% of the residents are fully vaccinated meaning that two-thirds of the population has not received the full vaccination treatments.
That may reflect how the vaccine issues have split our nation into an "us vs. them" society.  I've seen the opinions and responses on social media of the 2 camps: those who believe in protecting themselves and others with the vaccines and those who are hesitant or even refuse to participate in the vaccination programs.  Most believers shun those that don't want to get vaccinated but, interestingly, I have not seen many non-vaccinated who choose to shun their inoculated counterparts.
This is typical of the profession where "nurses eat their young" … shunning your brothers and sisters for choosing what they would like or not like to put in their bodies.
Ms. Bridges said, "This is supposed to be America!  You're supposed to have civil rights and constitution rights, your freedom of choice. … Nobody should be forced to put anything into their body if they are not okay with it."
While many health care facilities have mandatory flu vaccines, if one chooses not to take the inoculation, you can wear a mask.  But this is not so with the COVID vaccines.
According to the Health Law & Policy Institute at the University of Houston Law Center, an at-will employee of a private institution which has medical and religious exemptions in place, is not forcing her to take the vaccine.
With the support of other nurses, receiving signatures of more than a hundred co-workers, Ms. Bridges has filed suit against the hospital.  Will the courts allow her to have a choice of what goes in her body or err on the side of public health?  We shall see.