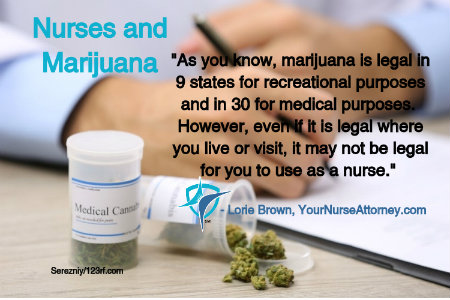 As you know, marijuana is legal in 9 states for recreational purposes and in 30 for medical purposes.  However, even if it is legal where you live or visit, it may not be legal for you to use as a nurse.
Unfortunately, it stays in your system for a long time and there is no good way to detect marijuana usage.  Frequently, I get calls from nurses who had a positive pre-employment screen and subsequently they lost their chance for a job and were reported to the Board.
The best advise that I can give is for you not to use marijuana in any form at all.  Your licenses and your livelihood are too important to put at risk for this substance.
Other nurses have claimed they were at a party and unknowingly happened to ingest something like a brownie laced with marijuana.  But, to tell the Board that you did not know they contained marijuana "is not a defense."  In fact, "I didn't know is never a good defense" in any such situation.
If you don't know for sure what is in an item or who made it, I would advise against having it.
As nurses, we are held to a higher standard than the rest of the public.  Even if you go on vacation, don't partake because it could likely still be in your system upon your return to work.
Marijuana has been touted to be a great stress reliever and nurses certainly have their share of stress.  It also can help you sleep. Be careful even with CBD oil, make sure you use only the oil which does NOT have THC in it.  There is CBD oil that contains only hemp, the female part of the marijuana plant, which has no THC.
I hope this information helps you to protect your license.  I believe that Boards look at the use of marijuana by a nurse is like it being used by an airline pilot.  Would you really want to get on a plane knowing that the pilot was using marijuana?  Would you trust your child's safety to a school bus driver or daycare teacher who you knew used marijuana?
This may be opening a proverbial "can of worms" but let me know your thoughts on this topic in the comments below.