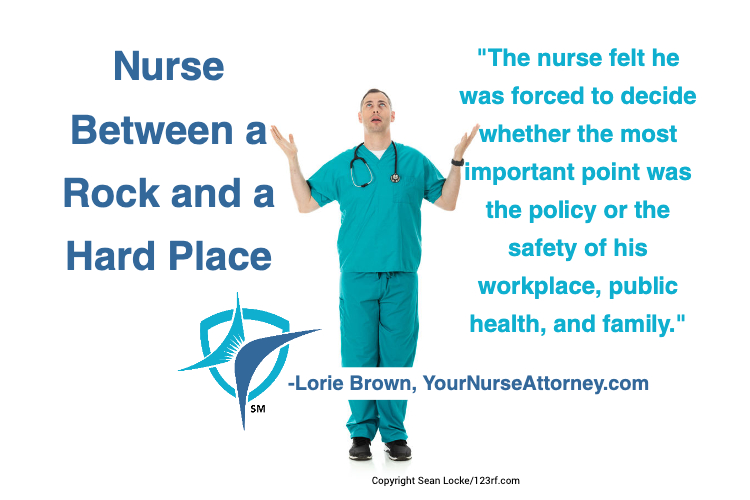 A Minnesota emergency room nurse was concerned about having to wear his own scrubs to work during COVID and returning home to his wife and children wearing those potentially contaminated scrubs.  He worried about bringing the virus home and passing it on to his family.
Scrubs were available in the emergency department and healthcare workers at other hospitals in the same system were allowed to wear the scrubs provided by the hospital.
However, at this particular hospital, he was told he could NOT use the hospital scrubs.  He continued to wear the hospital acquired scrubs rather than his own and, as a result, was terminated.  Since then, he received a letter from the Board.
It is so aggravating to learn that nurses, who are trying to protect their families, cannot wear hospital provided scrubs but are forced to wear their own scrubs and to wear home after working with possible COVID patients at the hospital.
However, I do not condone violating hospital policy and he did receive a warning after which he continued to disobey the hospital policy and continued using the hospital provided scrubs.
The nurse felt he was forced to decide whether the most important point was the policy or the safety of his workplace, public health, and family.
There is an appropriate way to make change and there are appropriate channels for this.  If you cannot make change, then you can decide if you want to leave.
There are also other ways to protect your family's health.  I know of nurses who brought an extra set of scrubs and changed clothes in the hospital before leaving.  I know nurses who, on arriving home, have changed in the garage and immediately took their potentially contaminated scrubs to their washing machines for cleaning.
Unfortunately, this particular nurse who chose to violate hospital policy has now received a complaint from the Board.
Anyone can file a complaint against a nurse and the Board will subsequently investigate to determine whether the file should be closed or the action on the complaint should proceed.
I have represented nurses who have taken from their hospital IV supplies for hydration and the Board considers that as theft.  Just borrowing hospital-provided scrubs which you don't take home and are still laundered by the hospital … well, I'm not sure what the Board will think.
Unfortunately, this nurse now is unable to get a new job.  He believes he has been "blackballed."  However, this nurse has been very vocal in publicizing his case on a website and on Twitter.
Hospitals do check you out and especially so with social media.  Would they want to hire a nurse who knowingly violated hospital policy?
If you want to make change, make it the appropriate way and be careful what you put on social media.  What are your thoughts about this matter?  Comment below please.