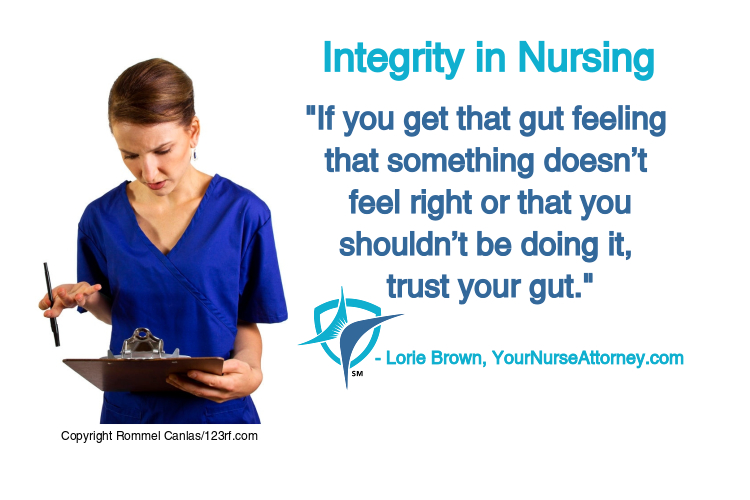 Nurses are consistently ranked as the most trusted professional group according to a Gallup Poll.  Nurses again outpaced other professions for honesty and ethics.  They rate an average of 84%, a very high range.  The second highest were pharmacists followed by medical doctors.
However, I deal with nurses everyday who have an isolated violation of their ethics or, as I prefer to call it, "integrity."
Ethics refers to the moral principles that govern a person's behavior or the conducting of an activity.  Integrity refers to the quality of being honest and having strong principles: moral uprightness.
As nurses, we see a side of humanity that few have the privilege in which to be involved.  Patients' lives are in our hands.
Unfortunately, the easiest way to get before the Board is a breach in ethics.  Here are some examples:
Covering up something that you don't want others to know.
Withhold information or the truth.
Lying, cheating, stealing.
Misrepresenting yourself.
Not being true to yourself.
Abusing substances or engaging in compulsive behavior.
When I was a unit manager of a medical surgical unit, one patient's colostomy was hooked up with the distal end exiting the body and the proximal end sewn shut.  Consequently, everything was accumulating in the proximal pouch instead of exiting through the skin to the bag.
We nurses were told by management to be quiet and not inform the patient of the mishap.  I felt SO out of integrity with that situation.
Now, I look at ethics as a line in the sand, something that you do not cross.  When you are in integrity, you feel better about yourself.  You can look in the mirror and know that you have done the right thing.
If you're not in integrity, it's hard to keep up with a lie.  It leads to low self-esteem, negative expectations, low effort, high anxiety, failure and self-blame.
Nurses also are "pleasers" which means when someone asks us to do something, we want to help but, if we know it is out of integrity for us, it is not worth it.
Nurses want to help and it's easy to just help someone when it is out of integrity.  Such as filling in the holes on the MAR, providing a late entry into a medical record without identifying it as such, not taking vital signs or doing a full neuro check but still charting them, taking supplies from the hospital, giving a pill to someone for whom they have a prescription but they ran out, etc.  All are examples of breaches in integrity and, if caught, will put you in front of the Boar
If you get that gut feeling that something doesn't feel right or that you shouldn't be doing it, trust your gut.  We all know those days where we agree to do something but then get those pains in our stomachs.  Really, it is easier to change your mind and say "no" than to follow through with it.  Your gut always knows.
When we live in INTEGRITY, life is a lot easier and we have nothing to cover up.  We have more energy and life feels much fuller, we feel better ourselves.
Have you been asked to cover up something or do something that you felt was out of integrity?  If so, how did you handle it?  Please share your experiences and thoughts below.