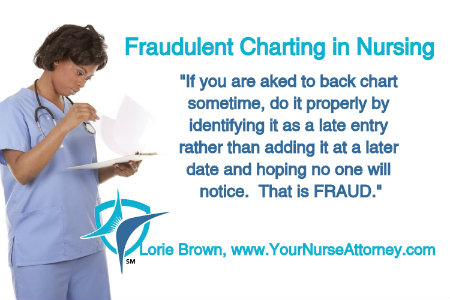 No one ever has become a nurse so that they can sit to document all the care they provided to their patients.  Yet, documentation is one of the most important parts of our practice.  As much as any of you may dislike documentation, it serves a very important purpose to protect your license and your livelihood as well as protecting you if a medical malpractice claim should arise.
One thing nurses seldom realize is that when they late chart or enter something in a record which is not timed, an attorney can get what is called "audit trails" to find the time that the entry actually was entered into the computer.
Tom Dillow, an informatics nurse and legal nurse consultant in Indianapolis, told me of a female patient on a medical surgical unit who coded in the early afternoon and ultimately died.  No rhythm strips were available from the code and, despite being on house wide telemetry, no rhythm strips were documented since the day prior to the code.
The records showed that the patient was in normal sinus rhythm shortly prior to the code, however, the attorneys were able to find that was placed in the chart 31 hours after the patient's demise.  An audit trail was able to determine that fact.
A late entry does raise suspicion, but it must be done properly rather than fraudulently.  To stick something in the record hours after the care was performed without labeling it as a late entry is fraud.  To properly document, a late entry needs to include the date and time when you are documenting the late entry along with the time and date when the activity or assessment occurred.
If the nurse properly documented the late entry 31 hours later that the patient was in normal sinus rhythm, noting the date and time of the documentation and the date and time when she assessed the patient's EKG as normal sinus rhythm, it still could raise suspicion.  At least with the proper late entry, it is not fraud. Even if it's a fill in the box documentation, you can still add it is a late entry in the narrative portion.
Know your facility's policies and procedures for late entries.  If you are asked to back chart sometime, do it properly by identifying it as a late entry rather than adding it at a later date and hoping no one will notice.  That is FRAUD.  People forget to document things in the chart but being honest about it with a proper late entry is a lot easier to explain than trying to cover something up.
What are your facility's policies on late entries?  What would you do if your supervisor asked you to "fill in the holes" on a record and not properly identify it as a later entry?  I would love to hear your comments below.