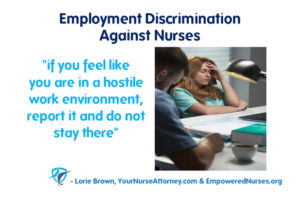 Most States are "employment at will" which means that one can be terminated for any reason or even for no reason at all!  However, under Title VII of the Civil Rights Act, employers are prohibited from discriminating against applicants and employees on the basis of race, color, religion, sex and national origin.
In a recent case, a 60-year-old nurse of Chinese descent, worked at the Cleveland Clinic since 1976.  Ms. Lee started over 40 years ago, when she was just 23 years old.
In 2009, she began working for a supervisor who gave her generally positive performance reviews.  In 2013, with a new supervisor, Ms. Lee reported that some employees were making comments to her like, "You Chinese people eat anything that crawls and walks" and "You don't have 'chinky' eyes even though you are Chinese."  She reported the incident to her then supervisor who told her that she was "overreacting" and being "sensitive."
In 2014, she was called into the office to discuss an incident for a patient for whom a medication was prepared improperly by a student.  Ms. Lee complained that she was being discriminated against by age and race.  At one point, her supervisor asked when Ms. Lee would be retiring and added statements such as "Things have changed."
She also claimed that she was given heavier loads and her unit manager would follow her around and ask her patients about her work performance, which the unit manager did not do for the younger employees.
Ms. Lee was given a performance improvement plan.  Three months later, in July 2014, she was given a written warning for failing to promptly notify a physician of his patient's elevated blood pressure despite the risk of that patient suffering an aortic aneurysm.  She was placed on a 3-day suspension pending an investigation and told the patient that she was getting fired, which upset the patient.
Shortly thereafter, Ms. Lee tendered her resignation and filed a claim in Federal court alleging discrimination.  After she resigned, the hospital hired several registered nurses, all below 30 years of age, including one who was a white male.
The court denied the medical facility's summary judgment claim, a way to end litigation if a claim is determined to be without merit, and Ms. Lee's retaliation claim was allowed to move forward.
This matter was reported on a website for human resource management.  Their teaching point was that "an employer should investigate a complaint of harassment or discrimination, even if the complaint is made to avoid legitimate discipline."
However, from my perspective, the teaching point is that you should document any negative comments directed to you.  Also, if you feel like you are in a hostile work environment, report it and do not stay there.  If you are thinking that you might be able to file a lawsuit afterwards, realize that it is very difficult as well as a very emotional and distressing process.  It is so much easier to try to resolve things amicably.
It does seem that hospital institutions are finding ways to ask nurses who are aging and on the top of the salary range to leave.  If you don't feel like you're getting support from your supervisor, go up the chain of command.
What are your thoughts about this?  Leave your comments below.