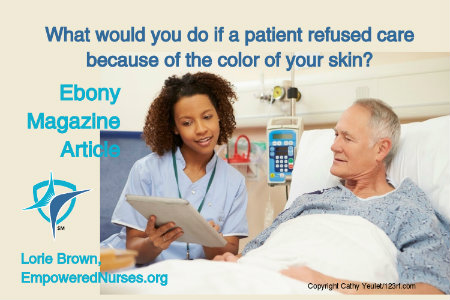 I was shocked and dismayed to hear of a lawsuit by a black nurse against Beaumont Hospital in Dearborn, Michigan.  This nurse apparently overheard a patient tell another nurse to not let "that Black bitch" take care of him.
This is shocking.  As nurses, we are taught to be non-judgmental and take care of everyone.  Unfortunately, not all of our patients are necessarily the same when it comes to being non-judgmental about those who provide their care.
It is one thing for a patient to request that a particular nurse not take care of them because they had concerns about the care provided by that nurse.  However, it is another thing to request a nurse to not take care of you presumably due only to the color of their skin.
A nurse has a duty to ALL patients on a unit.  In this matter, the nurse was not allowed to take care of that patient or any other patient in that room.
Now, should something happen to that particular patient, despite his skin color not matching hers, she still has a legal duty to take of him.
I don't know what will happen with this lawsuit but I am curious to learn.
It is sad that her hospital would blindly accept a patient's request like this, simply based on the color of her skin without telling the patient that ALL of the nurses are properly trained and ALL are capable of providing the proper and precise care.
To read more about this story, click on this sentence.
Have you ever had a situation like this occur?  If you were a manager, what would you do in this situation?
I'd love to read your comments below.