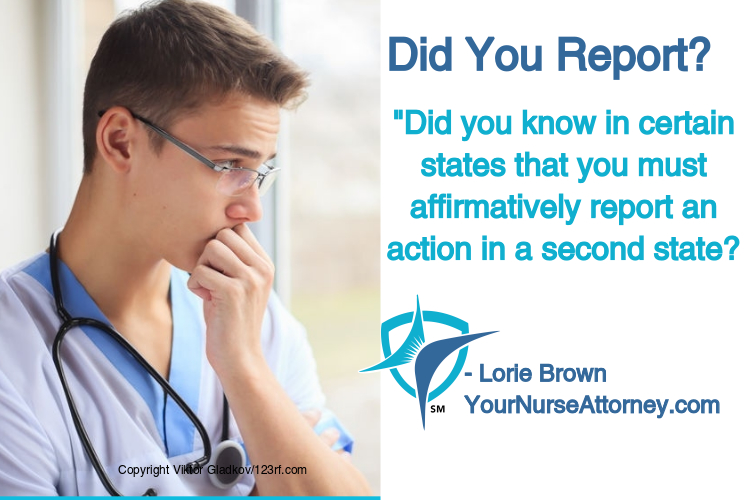 I've written often about if a nurse has a second license in another state and there is an action in one state, the other state may take action as well. But, did you know in certain states you must affirmatively report an action in a second state?
Some think that if their license is on probation that they can go to work in another state where their license is "free and clear." Be careful! If you do not voluntarily tell of a license matter in another state and the situation is found out, that may be a violation of that state's Nurse Practice Act.
If you have a license matter, you should review your state's Nurse Practice Act in all states in which you are licensed to determine whether you have to report the action in the other states. In fact, even if you don't have an active license, another state still can take action against your license. Always make sure that all Nursing Boards where you have a license are kept up-to-date with your mailing address to ensure that you don't miss any important communications from either state Board.
The American Association of Nurse Attorneys has published a position paper on the statute of limitations and retained jurisdiction. The Association does not feel that it is proper to be able to take action against an expired license after the fact, when sometimes it can be years later.
You also can check the Annual Survey of the National Council of State Boards of Nursing to see how each state is set up and who performs their investigation. It makes for interesting reading.
Another source is nursys.com, a public repository of actions taken on nurses' licenses. As well as checking on yourself, you can look up records on your coworkers as well to make sure there's nothing there.
The bottom line is that should you have an action in one state and if you have a license in another, make sure that you do not need to mandatorily report that action. It is better to be safe than sorry and report since it is public record anyway.