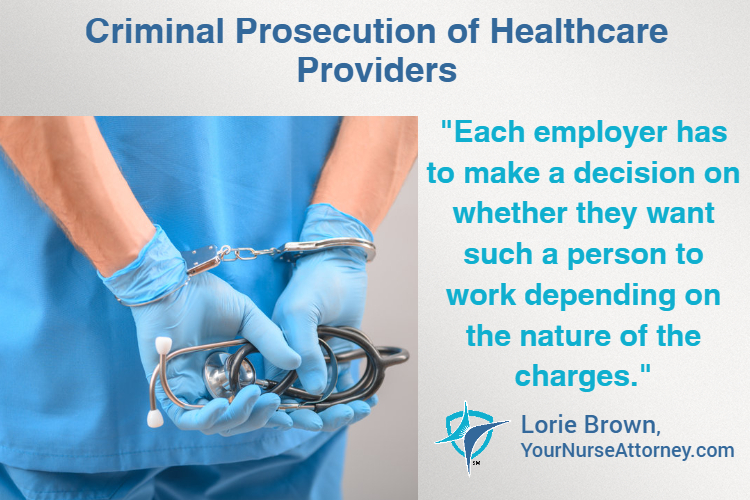 Last week I talked about RaDonda Vaught getting her day in court.  However, I forgot to note at that time that The American Association of Nurse Attorneys (TAANA) has a position paper regarding criminal prosecution of healthcare providers for unintentional human error. 
TAANA believes that, "the criminal prosecution of health care providers for unintentional error endangers patients, demoralizes providers, accelerates accidents in clinical practice, exacerbates the shortage of health care providers, contributes to a culture of blame and perpetuates the unachievable expectation of profession and practice." 
It also discussed how there should be a root cause analysis which cannot occur in a culture of fear or a culture of blame. 
I add that it is important to determine system issues which contribute to these errors. 
However, it is a different matter when health care providers are charged with intentional criminal acts.  Such as the criminal matter of a registered nurse in Orange County California who was accused of sexual assault.  Paul Alden Miller allegedly took a woman to a small, secluded room where he removed the woman's underwear saying he needed to insert a catheter. 
The patient did not understand why this was necessary but gave in to Miller's presumed authority where he then allegedly assaulted her. 
Since reporting the assault, two other patients have since come forward and reported they were sexually assaulted by Miller. 
On June 30, 2021, Miller was arrested and criminal charges are pending against him for sexual abuse and battery.  At this time, his license still remains active.  
It is surprising that with these types of criminal charges that someone can still have an active nursing license.  But usually matters such as this, if this nurse tries to find another job, the prospective employer will see the pending criminal charges and likely will refuse to offer the nurse a position.  
It is important that our system of "innocent until proven guilty" remains in force.  Each employer has to make a decision on whether they want such a person to work depending on the nature of the charges.