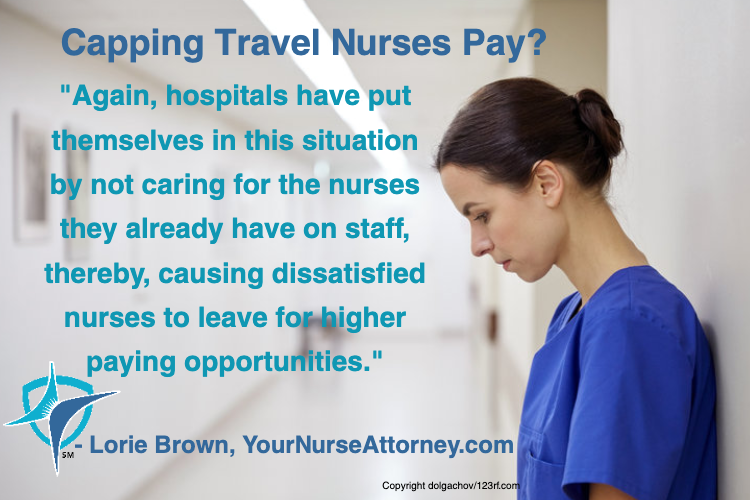 The American Hospital Association (AHA) and the National Center for Assisted Living recently asked Congress to investigate the fees that agencies are charging for the services of travel nurses.
The two entities say that fees for travel nurses have doubled, and they believe that the travel nurse agencies are engaging in "price gouging."
I found it interesting that the AHA spent over $24,000,000.00 for lobbying efforts and have made significant contributions to Politicians totaling almost $2,000,000.00.
Recently, a TIME magazine article reported that hospital and nursing agencies are exploiting the financial burden resulting from the pandemic.
Travel nurses are concerned that there are efforts to cap their pay, but the investigation is into what the agencies can charge the hospitals.  But this really does affect how much the travel nurse is paid.
Unfortunately, the pandemic, coupled with reportedly 18% of the nurses quitting the profession, has made this a recipe for disaster.
Looking at the high demand for nurses, nurses leaving and others choosing to travel, makes this situation one that is seemingly never ending.
The bottom line is that hospitals need to better treat nurses and offer increased pay for their work.  This is a free market and I always say, "Charge what the market will bear." I see no legal basis for Congress to limit the amount that a nurse agency can charge.
The hospitals are responsible for this situation and now … the hospitals must fix it!
I do not blame any nurse wanting to travel as it provides more money for them.  Many are making double what they did prior to becoming travel nurses.  Of course, from that pay, they must pay for their travel, lodging, expenses and even health insurance.
Travel nursing is risky!  They go into places that are short staffed to begin with that can't attract or keep their own staff.
Sometimes travel nurses can be treated differently than staff because those on staff resent the traveler nurse making much more per hour than they despite the fact that travel nurses are providing help to the existing staffs.
I have heard too many horror stories such as travel nurses going great distances only to find, upon arriving at their destination, that their contact had been cancelled.  Be sure to have your contract reviewed by an attorney prior to signing so that this does not happen to you or at least you are aware of the risks.
It is unfortunate that travel nurses are working on blind faith but it's caveat emptor, and you should always know what you are signing.
Now, that I have wandered off topic, let me return to the fact that Congress is not planning to enact legislation restricting travel nurses' pay.  Yet they are investigating whether nurse travel agencies are price gouging the health care facilities which, I believe, will be a difficult claim to prove.
Again, hospitals have put themselves in this situation by not caring for the nurses they already have on staff, thereby, causing dissatisfied nurses to leave for higher paying opportunities.
COVID certain has the exposed the "cracks" in our health care system.