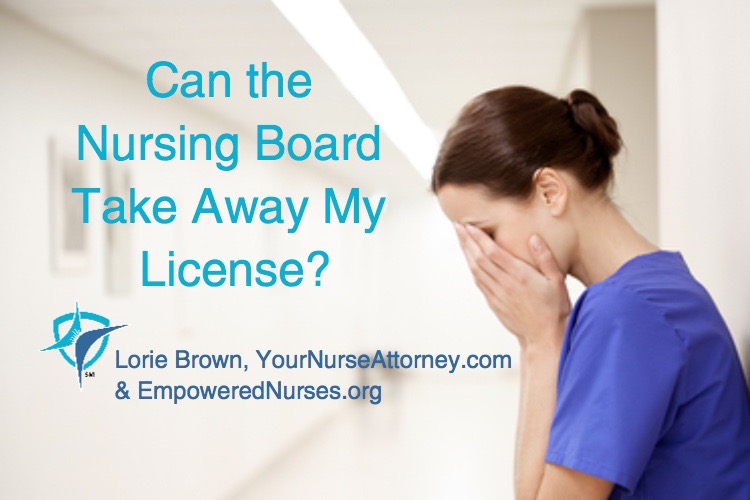 One of the questions I am most frequently asked by nurses is whether the Board of Nursing can take away their nursing license.
Unfortunately, the answer to that question is "Yes."  The license can be taken away temporarily or permanently.
The temporary process is called "emergency suspension".  Unlike in a civil court where there are rules in place to prevent evidence that may not be accurate or trustworthy from coming in, administrative law allows the admission of hearsay, an out of court statement offered to prove the truth of the matter.  Therefore, a piece of paper that says you did something could be used against you, even if you deny it.
Note that your license is a privilege and not a right.  To take away your license temporarily, you must be shown to be a clear and immediate danger to the public.  Yet, again, if there are letters, employment records, etc. which detail what somebody wrote that may or may not be the truth, it can be introduced and used against you.
Here are some ways to protect yourself from getting an emergency suspension.
Follow the hospital's policies and procedures to the letter. If you need someone to witness the wasting of medication, make sure that person actually witnesses and cosigns your wasting of the medication.
Do not use controlled substances – unless you must for a short period of time, such as following surgery or an acute injury. It is preferable not to work during those periods.  If you are asked to take a drug test and your urine comes up positive, the Board will not know whether you used the medications at work or after work.  I know nursing is a difficult and stressful job, but taking medication to try to alleviate some of the stress is not the way to go.  Even if you live where marijuana is legal, its' use is strictly prohibited for healthcare professionals.
Don't keep old controlled substances. If you have recovered from your medical situation and no longer need the medication, properly destroy them.  Do not leave them around.  It may be tempting to keep them in the possibility of pain on a later date.  However, the Board looks at that as practicing medicine without a license because you did not take the medicine for its intended prescribed purpose.
Never borrow controlled substances. If you have a medical issue requiring treatment, go get a valid prescription rather than borrowing medications from another person.  As before, this is considered practicing medicine without a license.
I know this all sounds scary but the adage of "an ounce of prevention is worth a pound of cure" is absolutely correct.  Just do the right thing to protect your license.