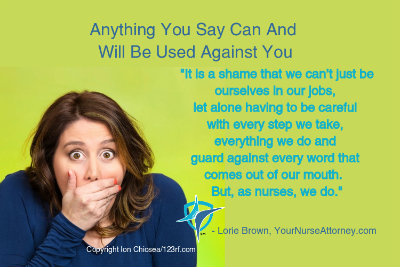 There probably is no one in the country who has not heard the phrase "Anything you say can and will be used against you."  I've been familiar with that saying seemingly forever.  I always thought that referred only to criminal matters but apparently it now applies to nursing as well.
I have had cases where a nurse jested with an off the cuff remark about something at work.  Whether or not it was made as humor, employers seem to be taking these quips seriously resulting in the nurses being terminated.
Many of us have said to ourselves something like "If that patient pushes their call light one more time, I'm going to punch them out!"  If you say something like that out loud, you could get yourself into a lot of hot water.  Of course, none of us would attack a patient but even saying something like "if I have to take care of that patient again, I'm going to jump off the roof" can and will be used against you.  Or "If that charge nurse gives me that assignment again, I'm going to dump my lunch all over her!"  Any such off the cuff remarks can and will be used against you.
It's hard enough to be a nurse with everything we have to deal with, and many times we say things that's in fun.  But, I am here to tell you … be careful!
It is sad that we can't use our humor in the workplace (nurses certainly have a unique sense of humor) but still, be careful.  You never know who is listening or who is going to repeat something that you said, possibly even take it out of context, which will come back to bite you.
It is a shame that we can't just be ourselves in our jobs, let alone having to be careful with every step we take, everything we do and guard against every word that comes out of our mouth.  But, as nurses, we do.
Do you feel that you must be careful of what you say at work?  Do you feel that you can speak your mind?  Do you feel that you can joke around?  I'd love to hear your comments below.