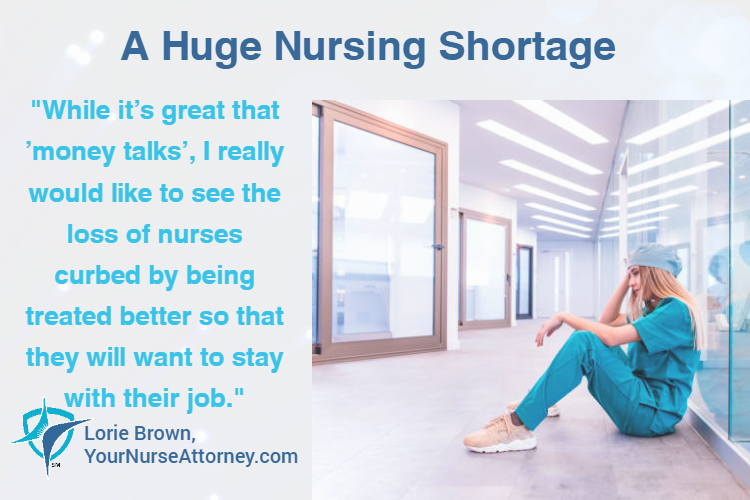 Anyone interested in making money in Georgia?
Piedmont Healthcare is offering sign-on bonuses of up to $30,000 to attract nurses to their employ.  That hospital system has been relying on expensive travel nurses to treat their patients but instead is now making a concentrated effort to put together their own staff.
Many other health systems are offering sign-on bonuses such as Penn State Health's offer of $15,000; and Baptist Health Systems which is presently offering a $20,000 enticement.
Nurses are more in demand now than ever throughout the country.  The shortage is resulting from many who have left the profession due to being "burned out" with the demands of health care during the pandemic.
Specifically, there is a crucial need for med/surg and ICU nurses and even operating room nurses as health systems try to recoup lost revenue from earlier during the pandemic when elective surgeries were placed on hiatus.
Interestingly, there currently is less of a demand for specialties like pediatric care as well as labor and delivery.
If you decide to apply for a new position that offers a sign-on bonus, be careful because if you are later terminated, or the position does not work out for any reason, you will have to pay back that bonus, usually pro rata.
You will want to negotiate very carefully a contract with a sign-on bonus as there can be many strings attached.  Having an attorney review the contract before you sign would be prudent.
While it's great that "money talks," I really would like to see the loss of nurses curbed by being treated better so that they will want to stay with their job.  Some things to help are assisting nurses decrease burn out, having adequate staffing and showing appreciation to the nurses for their service.
The culture in many of today's healthcare facilities needs to change if they wish for their nurses to stay.
Though it may sound great to move to Georgia and get a sign-on bonus, do your homework, make sure the unit you are signing onto values and appreciates their nursing staff.  And of course, carefully negotiate your sign on agreement so that you can avoid paying back a lot of money if things don't work out and you choose to leave.