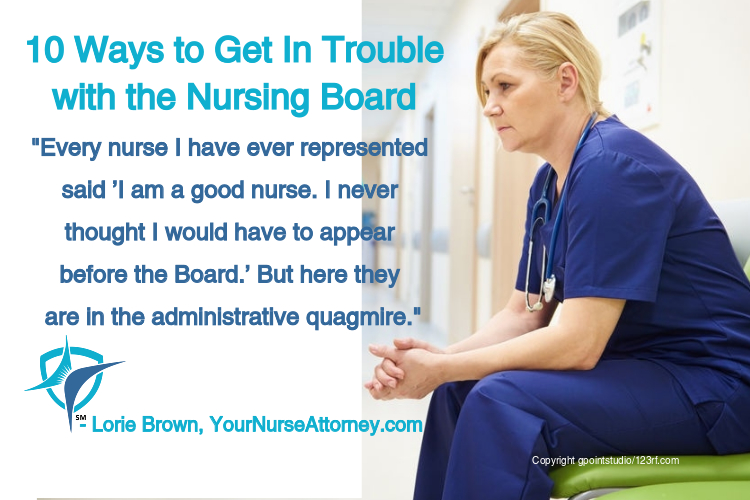 Every nurse I have ever represented said, "I am a good nurse.  I never thought I would have to appear before the Board."  But here they are caught in the administrative quagmire.  There are a myriad of ways a nurse can get in trouble with the Board. I wanted to share common ways I have seen in my practice to put you on alert so you can avoid these issues.  Here are ten possible ways, in no particular order, that might get you in trouble with the Nursing Board.
DRUG DIVERSION AND/OR SUBSTANCE ABUSE:
A large percentage of the number of cases that come up before a Board fall into this group.  If you develop a substance use or abuse problem, I suggest contacting your peer assistance program as this is the best way to protect your license.  If you know of someone who needs help, I highly recommend that you insist that your colleague protect their license by also contacting the peer assistance program.  This could save their life and their license.
CRIMINAL ACT OR CONDUCT:
This could also relate to drug diversion or substance abuse but sometimes it does not.  It could be an ethical issue that the Board is concerned about for which they would like to take action.  Whether you agree with it or not, the Board views you as a nurse 24/7.
SCOPE OF PRACTICE:
This violation occurs when a nurse acts outside the scope of their practice.  It happens when, say, a nurse fails to get a doctor's order for something.  Many times, it happens when a nurse does something thinking the physician will cover them later and then he/she doesn't.
HIPAA VIOLATION:
This is self-explanatory.  Any time you breach a patient's confidentiality or have some other HIPAA violation, the Board can take action against you.
FRAUDULENT OR FALSIFIED PATIENT CARE OR BILLING RECORD:
It is unfortunate that should you fail to document the administration of a narcotic, the Board seems to believe that you took the medication or, if you didn't take the medication, then you sold the medication or, in a third hypothesis, if you administered the medication and just forgot to document it, then you are incompetent.  This seems like a no-win situation.
FAILURE TO MAINTAIN MINIMUM STANDARD OF NURSING PRACTICE:
Such allegations include incompetence or negligence.  This can include medication errors or failing to identify a change in patient condition.  Sometimes it can even include concerns due to terminations from multiple jobs in a short period of time.
RECIPROCAL ACTIONS:
Did you know that if you have an action against your license in another state, you also can have an action in all states in which are or have ever been licensed?  Therefore, it is very important to fight such claim at the outset, even if you no longer practice in that state.  Otherwise, the other states in which you hold a license can take action leaving you with no defense if you resolve the matter in just one state.
RENEWAL FRAUD:
If a nurse fills out a license renewal application or an employment application but does not tell the truth, it can be considered fraud and material representation in obtaining a license. This includes omitting jobs from an employment application.
FAILURE TO PROPERLY DOCUMENT:
This is when your documentation does not accurately reflect the patient care and services rendered.  Late entries can be a red flag for these types of claims especially if they were not properly made. Sometimes facilities have cameras in the hall and can show that you did not check on the patient as required or only were in the room such a short period of time, you could not have possibly rendered the care you said you did.
FAILURE TO ADHERE TO FACILITY POLICIES:
It is very important that you know the policies at your facility.  Facility policies and procedures can change often.  You may have been at one place where, say, it was proper for a nurse to draw blood from a Quentin catheter and then go to another place where it is not acceptable.
By sharing with you these ten areas in which nurses are frequently called before the Board, I hope that you will be on high alert to avoid such situations in your daily practice.