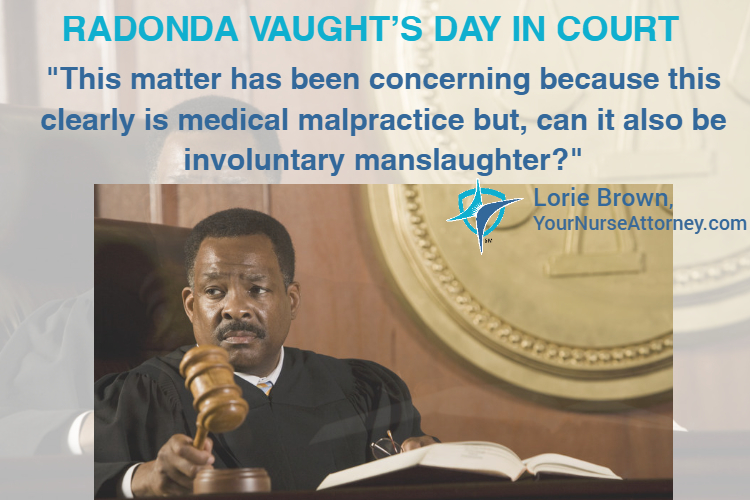 In a previous article, I reported on RaDonda Vaught, a Tennessee nurse who was ordered to give versed to a patient undergoing a PET scan but instead administered vecuronium through a medication mix-up.  As a result, she was arrested and has criminal charges pending for reckless homicide. 
This matter has been concerning because this clearly is medical malpractice but, can it also be involuntary manslaughter?  If a jury finds Radonda guilty of reckless homicide, wouldn't you agree that it would have a chilling effect on nurses who then could be criminally prosecuted for a medical mistake? 
First, let me point out her nursing board matter which initially was dropped thinking the incident was a medication error.  The Tennessee Nursing Board decided to close Radonda's matter after originally determining that she had not violated standards of nursing care. Then suddenly, they decided she was a threat to the public and reopened the case making her license subject to possible discipline.   However, her nursing license is still currently free and clear in Tennessee. 
The Tennessee Department of Health is planning on calling 16 witnesses, most of whom are medical professionals at Vanderbilt University as well as some of her former colleagues. 
The Administrative Law Judge said the witnesses can testify remotely due to the COVID limitations; however, Radonda's attorney petitioned a Davidson County judge to overrule that decision because the case hinges on the credibility of witnesses.  By not having the witnesses physically before the Board, it would be more difficult to assess the weight of their testimonies, properly and fully.  I do not know how the Judge ruled on this Motion. 
Apparently, other than the criminal charges, there has been no filing of a medical malpractice action against Radonda or Vanderbilt.  When asked her plea on the criminal charges, she pled "not guilty."   
Vanderbilt took several steps so the public would not learn about the incident and the error.  They had the decedent's family sign a non-disclosure agreement about the matter.  The fatal error was not reported to the Tennessee government as required by that state's law.  Vanderbilt informed the Davidson County Medical Examiner that the patient succumbed to natural causes, failing to mention anything of the deadly medication error.   
Apparently, an anonymous tip triggered a Center for Medicaid and Medicare Services investigation that subsequently revealed the mistake resulting in the patient's death. 
Radonda's jury trial is scheduled to begin March 21, 2022.  We have all heard of our right to a speedy trial however it seems that may only apply to defendants who are actually sitting in jail.  Fortunately, Radonda is free on bond until her trial on March 21, 2022. 
I am looking forward to learning what a jury of her peers will decide and am hopeful they will see that this matter should be one of medical malpractice and not a criminal matter.