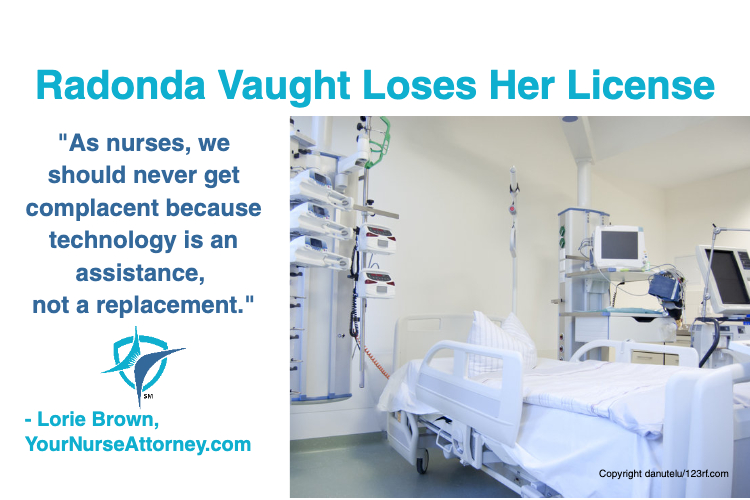 As we have been following the story of RaDonda Vaught for some time, we've learned that she had her hearing before the Tennessee Board of Nursing.  She made a medication error causing death. 
Ms. Vaught did the right thing by admitting to the error and taking responsibility for it but she also pointed out contributing factors from Vanderbilt such as the computer system linking to the medication cabinet was slow and nurses were told via email to override the safeguards so they could get necessary medications quickly. 
Normally, she would not have done that. However, given the problems with the computer system, this override was frequently done by all nurses.  Therefore, the normal safeguards in place were not utilized by the facility's nurses due to the computer problem. 
Ms. Vaught's case accentuates a very serious problem which is just how much we rely on technology.  As nurses, we should never get complacent because technology is an assistance, not a replacement. 
When I was practicing nursing, we did not have any such systems in place.  We had to follow the good old fashioned "5 rights" which were: right patient, right route; right drug; right dose and right time. 
Apparently, Ms. Vaught is currently working at a desk job for HCA Healthcare.  I'm not sure what kind of position it is but she most likely will have to quit because when one's license is revoked by a state Board of Nursing, that person is reported to the Office of the Inspector General and not allowed to work anyplace that takes care of Medicare or Medicaid patients. 
In another event, this one from 2015, a nurse administered the wrong dose of a medication resulting in patient's death.  I believe it was a child in home care named Samuel.  The legislature reacted by introducing legislation called Samuel's law that would automatically revoke a nurse's license if they over or under medicated a patient.  
The American Association of Nurse Attorneys (TAANA) issued a position statement against that law stating that 1, this law violates due process by failing to give a licensee an opportunity to be heard; and 2, usurps the authority of the Board which is provided powers and duties to hear these types of issues. 
Fortunately, the Samuel's Law was not passed.  Ms. Vaught did have a hearing and an opportunity to be heard but the Board still chose to revoke her license. 
Previously, the Board had reviewed Ms. Vaught's matter and decided to take no action.  But once criminal charges were filed, charges were also filed against her nursing license. 
The nursing board is the appropriate venue for these types of issues.  I do not believe that an inadvertent medication error should result in criminal charges.