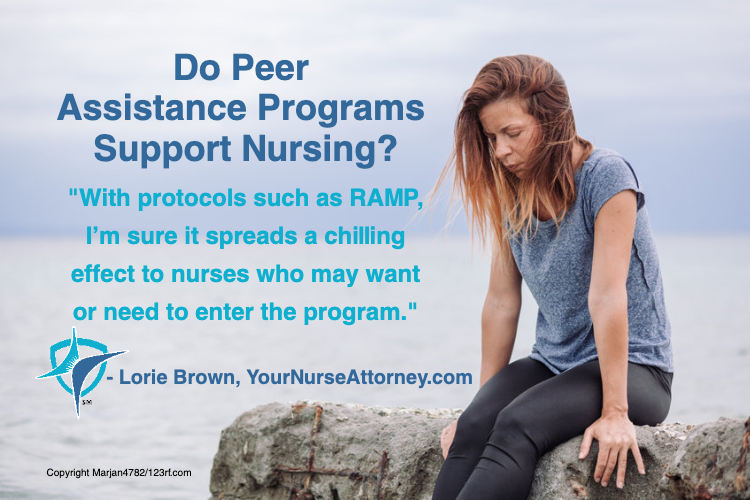 In a recent article on MedPage Today the question is asked, "Are peer assistance programs defective and harmful to nurses"? 
The article specifically discussed recent issues regarding the recovery and monitoring program ("RAMP") in New Jersey.  RAMP discussed how nurses cannot work during the intake process, which can take up to 90 days, after which a decision is made when a nurse can return to work. 
It also discussed how costly RAMP is in that those nurses must pay a monitoring fee as well as for the testing which can range from $250 to $2000 depending on the type of evaluation required such as psychological, neurological or substance use. 
While the program boasts their high success rates, it is very concerning to me that these programs are designed for nurses to keep their licenses, yet their licenses are promptly suspended for 90 days while the evaluation is being conducted. 
In Indiana, nurses are referred to INPRP or ISNAP when there is an irregularity in documentation such as failing to witness waste, sign out or sign the administration of medication.  Fortunately, Indiana does not immediately suspend a nurse's license unless there is a clear and immediate danger to the public, and such is done only after the nurse is afforded an opportunity to be heard on the matter. 
With protocols such as RAMP, I'm sure it spreads a chilling effect to nurses who may want or need to enter the program.  I don't believe there is a nurse anywhere who wakes in the morning thinking, "I want to take drugs" or "drink alcohol."   
Unfortunately, such abuse is a disease.  Nurses need all the help that they can get.  Nursing is stressful and getting even more stressful every day.  We need to support our nurses who fall into addiction by providing them with support in a safe haven so they can continue working if they can safely do so or return to the workforce quickly. 
In addition, if the nurse cannot work, such as with RAMP in New Jersey, it can be financially devastating to them. 
Meanwhile, in Indiana, there is a needs assistance program available to help cover the costs of drug screens and monitoring, but that needs assistance is not guaranteed. 
At a time when nurses are so desperately needed, I am hopeful they will be able to get the help they need in a caring compassionate environment so eventually they are again able to re-enter the workforce in a safe and healthy way.